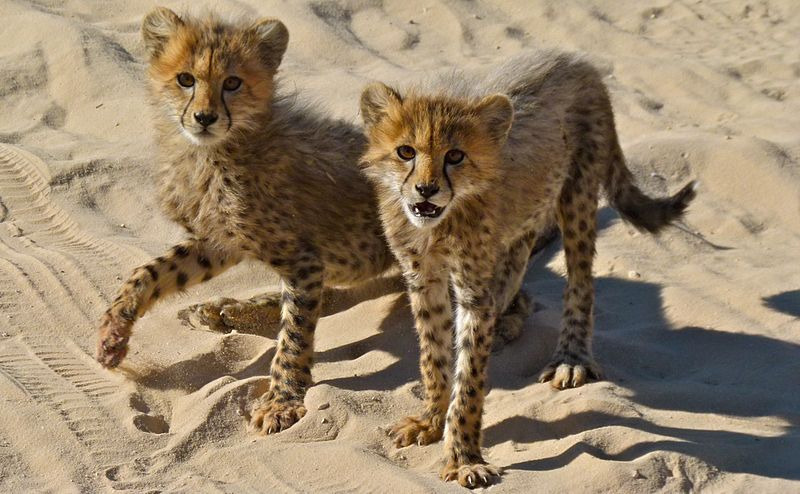 New Science May Improve Genetic Diversity Among Critically Endangered Cheetah Populations
by Devika Pal, age 15
In February, researchers at three institutions developed a breakthrough process to potentially conserve the cheetah population worldwide. The institutions involved in making this accomplishment possible were the Columbus Zoo in Ohio, the Smithsonian's National Zoo and Conservation Biology Institute (SCBI), and the Fossil Rim Wildlife Center, Texas.
Using in vitro fertilization and embryo transfer, biologists and zoologists were able to deliver two cheetah cubs. In Vitro fertilization is the process by which the eggs of one female are fertilized by the sperm of a male, and the embryo is carried by a surrogate mother. Such a process comes as the cheetah population faces lowering numbers and the risks of inbreeding.
This accomplishment "...really opens the door to many new opportunities that can help the global cheetah population," said Jason Ahistus, a Carnivore Curator at the Fossil Rim Wildlife Center.
According to the Columbus Zoo, the cheetah population has declined to around 7,500 due to habitat loss, illegal hunting and unregulated tourism. Cheetah experts are worried that decline in population increases the chances of inbreeding in the species.
In this most recent instance of in vitro fertilization, the cheetah eggs came from females named Kibibi and Bella and the sperm came from a male named Slash. The eggs were fertilized in a laboratory. The embryos were then carried by cheetahs Isabella, nicknamed Izzy, and Ophelia.
This is only the third time that in vitro fertilization has been attempted in cheetahs. The last time a cheetah was successfully artificially inseminated was 17 years ago. The biologists behind this recent procedure were Dr. Adrienne Crosier and Dr. Pierre Comizzoli from the Smithsonian and Columbus Zoo veterinary teams.
After the recent success, Dr. Crosier said in a media release, "Working with the Columbus Zoo and Aquarium was a game-changer because their females are highly cooperative. It was a remarkable opportunity and we learned so much."
Even though just two cheetah cubs were recently born, their births are crucial to save the cheetah population. While efforts are being made in captivity to help endangered populations, the Columbus Zoo has also invested in many other ways to help conserve the cheetah population in Africa, including providing health exams for the animals and using technology to track their habitat and movements.
Tom Stalf, President and CEO of the Columbus Zoo and Aquarium emphasized how in vitro fertilization can help conservation efforts of the whole zoo. "Today's zoos stand on the forefront of conservation efforts, and these cubs represent one of the crucial ways that zoological professionals contribute to saving wildlife and wild places," said Stalf. "Our efforts here in Ohio, our collaboration with our zoological colleagues, and the support of our community are all key to us being able to be part of dedicated cheetah conservation projects so we can make a difference."
[Sources: Colombus Zoo ; Associated Press ]