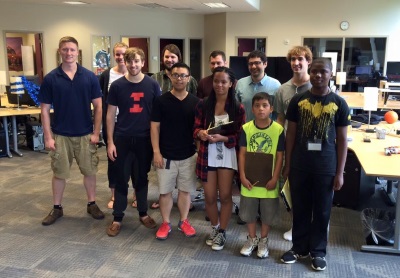 Have you ever wondered what the inside of a technology company looks like and what goes on there? Recently, Simpson Street Free Press student reporters had the opportunity to visit Hardin Design and Development (HDD), a Madison software and application firm founded in 2008. Vice President and Co-founder of HDD Scott Resnick and HDD employee Anouson Bounket led us on a tour of the start-up company. We also had the chance to sit down with them and ask questions about what it's like to work in the tech industry.
Hardin Design and Development is essentially a for-hire app and website developing company. Corporations and individuals come to the company with ideas for apps or websites, and HDD makes these visions a reality. Today, HDD employees spend their time advising over 150 clients throughout the United States. HDD's clients have included companies like Culver's, Mercedes Benz, Red Card, and The New Yorker . The Culver's app created by HDD, for example, sends app-users an alert when a local Culver's has their favorite custard flavor. When we asked Resnick about the most interesting project his company has ever tackled, he said that HDD was once hired to create an app for 100,000 different crock-pot recipes.
While on our tour, we noticed that HDD is not your typical office. Before we arrived, we thought the company would have a sterile, standard office kind of feel. Instead, HDD has a no-cubicle, open space design. There were many fun items lying around the office like NERF guns and chessboards. The employees even had a game room with video games, a mini basketball hoop, a pool table, and a ping-pong table. Resnick said HDD is designed like this because studies show that employees are most productive when they are happy in their work environments and have many creative outlets available to them.
When we asked about HDD's employees, Resnick indicated that the company hires all kinds of employees with different educational backgrounds, as long as they are capable of computer coding or tech design. He said that of the company's current employees, many self-taught themselves to code with guidance from programming classes and the internet. Resnick also mentioned that HDD occasionally hires college and high school-aged interns.
A few of the company's employees also provided us with career advice. Tom Juszczyk, the company's youngest employee, said that students should remember to work hard in school but also pursue their own personal interests. Resnick added that students should remember there is no rulebook for people to follow: there are multiple ways to achieve every goal. It is important for young people to work to figure things out on their own, Resnick said.
HDD may not be the typical cubical-style office, but the company's methods really seem to work. We enjoyed our visit to HDD—it was so interesting to learn about the inner-workings of a tech company. We hope that we can work at such a fun and productive place one day!