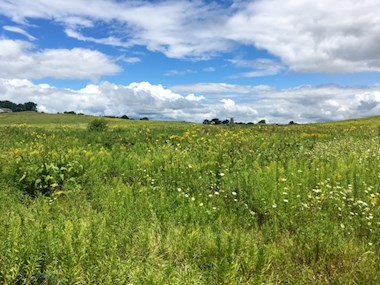 For the first time, the Dane County Parks Division has developed a survey as an added outreach effort to get citizen input on their Parks and Open Space Plan. Every five years, the Parks Division updates the plan, but this year they will administer a survey of Dane County residents in English and Spanish. The feedback from the survey will be considered to design the 2018-2023 plan.
"We really believe in a grass roots level, hands on planning approach...and encouraging as many people to provide input as possible," said Chris James, Senior Landscape Architect at the Dane County Parks Division.
The Park and Open Space Plan lays out the vision of the department's parks, cultural, historical, and natural outdoor resources. To receive State and Federal funding for parks and trails, the plan has to be renewed and confirmed by the county board every five years.
According to Joe Parisi, Dane County Executive, "The Dane County Parks and Open Space Plan is our blueprint for future park, trail, recreation, and conservation needs. We are excited to hear thoughts and ideas from residents about what they value most about our park system."
The multiple choice survey asks about how locals use the park system and how often they visit. It only takes about five minutes to complete and survey participants may choose to be entered into a drawing for a free permit of their choice.
The purpose of the survey is to take the ideas and opinions of the people of Dane County and use them to create a plan that will improve the county's parks. The survey will also identify limitations, such as language or transportation barriers, and gauge overall awareness and satisfaction of the parks system.
Another great part of the survey is its Spanish translation. One of the goals of the survey is to collect a wider variety of responses. The Spanish translation does just that: it removes barriers, improves accessibility and representation in the parks system.
The voices of the Dane County citizens will help bring change to the parks system in many ways. If there is something that you love about the parks, or something you think needs a little work, your opinions have an effect on it all. No matter what your background, you are entitled to a quality park system. As James put it, "Similar to a natural ecosystem like a prairie, diversity is key!"
¡Presiona aquí para tomar la encuesta!
[Source: Dane County Executive Press Release ]