Free Press Writers Visit the Newly Expanded Aldo Leopold Nature Center
by Masha Vodyanyk, age 17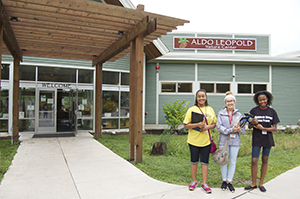 During a recent tour of the newly expanded Aldo Leopold Nature Center, executive director Camille Zanoni shared some alarming data with Free Press student writers. Zanoni said that children spend only one percent of their time outside. This directly correlates with a rise in childhood obesity, depression, ADD/ADHD, and cardiovascular problems.

In 2012, the nature center added 11,000 square feet to the building, including outdoor, nature based exhibits and an interactive Climate Science Education Center. "The center is really proud to serve as our community's bridge to nature and provide families, students and adults the chance to explore the natural world," Zanoni explained in a recent interview for the Wisconsin State Journal. In addition to educating children about the environment and spreading awareness about climate change, the center also offers children time outdoors, which, according to Zanoni, can improve their academics as much as 30%.

Part of the new expansion, the Climate Science Education Center reaches out to children of all ages, as well as adults. Through interactive technology, the audience can learn about nature, energy, weather and climate, and the interconnection of these subjects. Awareness about the Earth's cycles and overlapping systems is crucial to preserving our planet for the current generation and those to come.

TV touch screens, located throughout the center, have interactive activities related to renewable energy sources, climate change, and the effects of human influence on the environment. Visitors can move sliding TV screens placed throughout the exhibit along timelines. As they move, the timelines show the changes in the Earth's average temperature over the years. Visitors are often shocked to see the scientific predictions of higher temperatures worldwide over the next century.

Children can also experience weather broadcasting in the center's green-screen studio sponsored by WKOW. With cameras, TVs, and a green screen projecting different weather patterns, visitors can present their own weather reports to friends and family. The Climate Cast encourages children to practice public speaking, thus helping reduce their stage fright.

In the center's separate auditorium, a six-foot suspended sphere displays movies and planetary data. NASA imagery from satellites releases hourly data on the planet's weather changes. The center contains imagery and data on recent earthquakes and light pollution, for example. The sphere can also project Earth science documentaries for various audiences. The "Science on a Sphere" exhibit provides visitors a unique way of viewing our planet.

The Climate Science Education Center offers many other interesting exhibits for audiences of all ages. Using interactive technology, the Aldo Leopold Nature Center engages children in learning about Earth's environment. Ultimately, the center aims to spread awareness about ecology and encourage the younger generation to use Earth's resources conservatively.
[Source: Wisconsin State Journa l]
Simpson Street Reporters Tamiya Smith and Andreanna Wright also visited the Aldo Leopold Nature Center and wrote about their experiences, you can read their article here.