The Brilliant Career of Satchel Paige

The Reputation, Mystique, and Awesome Skill of One of Baseball's Greatest Players

by Patricia Cazares, age 13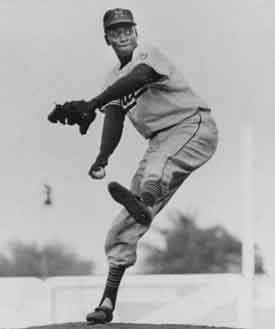 Satchel Paige was one of the greatest pitchers of the Negro Leagues. His impressive career spanned five decades.
At one point Paige threw 64 consecutive scoreless innings and recorded 21 straight wins. The year was 1933 and Paige finished the season with a 31-4 record.
But Satchel Paige was far more than a one-year wonder. For 22 years, he dominated the Negro Leagues. Huge crowds often turned out to see him pitch. While Paige had a reputation for showing off to his fans, his biggest dream was to pitch in the Major Leagues.
*****
It is believed that Satchel Paige was born on July 7, 1906. No one really knows for sure. His age eventually became very important to people. People were curious because his career was so long and Paige was so successful. Yet he seldom answered questions about his age. It added to his mystique.
Once, when Paige did talk about age, he was evasive. "Age is a question of mind over matter. If you don't mind, it doesn't matter," he said.
Paige's dream of entering the Major Leagues came true in 1948. It was just one year earlier that Jackie Robinson had broken baseball's color barrier.
Bill Veeck, a now-famous baseball executive, was then with the Cleveland Indians. Veeck decided to give Paige an entry test, a chance to play baseball in the Big Leagues.
Veeck used a cigarette as a makeshift home plate, and Paige took aim at his almost invisible target. He threw five fastballs, and all but one made it directly over the cigarette. Veeck was so impressed that he put Paige on his team. With the help of Paige's pitching, the Indians won the American League pennant.
Joe DiMaggio, a famous baseball player, said Satchel Paige was "the best and fastest pitcher I've ever faced." While in the Major Leagues, Paige also played for St. Louis and Kansas City. In 1965, his actual age still a mystery, Satchel Paige pitched his last game. In that game, he pitched three shutout innings for the Kansas City Athletics.
Later, Paige served as the coach for the Atlanta Braves. In 1971, he was awarded baseball's supreme honor: he was elected into the Major League Baseball Hall of Fame.
*****
Satchel Paige died in Kansas City in 1982. He was buried on Paige Island in Forest Hill Memorial Park Cemetery, Kansas City, Missouri. He is remembered today as not just a great player, but as a baseball pioneer.
[Source: www.satchelpaige.com; www.biographybase.com]