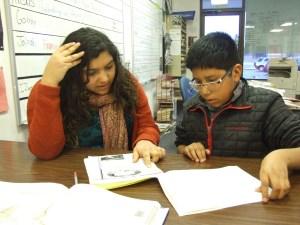 There are dozens. The names are too many to mention in a short newspaper column. But nobody changed my life more than the Free Press volunteers who helped me learn to read and write. They sat with me and coached me and encouraged me.
I started writing for James Wright Free Press at Capital Newspapers when I was in the sixth grade. Now in high school, I work as an assistant editor at Simpson Street Free Press at South Towne. I help younger, less experienced reporters learn the ropes and the Simpson Street way of doing things. I'm saving for college, so this kind of part-time job helps me immensely.
It is the volunteer editors that make our newsrooms flow. Our staff writers are always anxious to work with the volunteers. Each time a student gets with a volunteer, their article gets closer to done. We call it close reading and editing, and the work these volunteers do is truly remarkable.
"I think our volunteers are more like coaches," says Free Press student Valeria Moreno. "They walk me through suggestions and changes in a way I can really understand and use. It's like I learn the most from all the editing."
Former middle school columnist and current Teen Editor, Leila Fletcher agrees. "The editing is extremely helpful and important. The older I get the more I recognize how much our volunteers do for us. I find myself using what the volunteers have taught me, at school and in life."
"Close reading is what we do here," says former student and current editor Sarah Useche. "Fact checking and rewrites build literacy. I'm a confident college student because Free Press editors sat one-on-one with me during high school."
I agree with my colleagues. As we talked amongst ourselves, we decided to say 'thank you' the way we do best—by writing. So, to all the Free Press volunteer editors, please know how much you mean to us. We are better students because you give us your time and talent. We are grateful. And we will always remember.