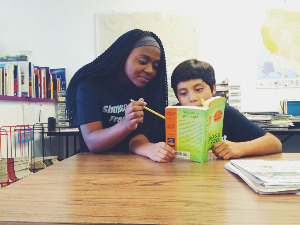 Some students cannot read. What should be done to ensure that all students can read before they get to high school?
This is, of course, a tough question. But it's a question that needs to be asked. It's sad but true, not all Madison students can read before they get to high school. In fact, in Madison Wisconsin in 2018, less than half of local students are proficient or advanced in reading. This is unacceptable. Too often in Madison we act far too slowly when the lives and futures of black and brown kids are at stake. Now is the time for urgent and immediate action. Extended-day, out-of-school time, opportunities focused on academics and reading will make immediate dents in local achievement gaps.
I believe that to understand this important issue we should take a step back and look at possible reasons. Perhaps we're not asking the right questions. The first question we should ask is: what's getting in the way? Why can't Madison students read? Many kids don't have the support they need. They're not able to sit down at home and read one-on-one with somebody. Many parents work extended, sometimes grueling work schedules. They work hard to provide for their families. For many parents, language barriers also come into play. Providing effective out-of-school time academic support is difficult for some Madison families. Students who encounter these types of barriers are exactly the same students who need extended-day learning opportunities the most.
Just as unfortunately, in Madison, these are the very same students who don't get access to high-impact academic support during out-of-school time. As a young person growing up in south Madison, I can testify that really good academic support is hard to find. Classroom teachers and school staff work hard. But they need help and the need for academic support is far greater than what the school day alone can provide. When local kids return to their neighborhoods, academic help usually isn't available. This puts kids from my neighborhood at an obvious disadvantage. Madison's persistent achievement gaps reflect the practical barriers faced by many parents and the lack of academic support available to local kids.
An increasing number of Madison's kids are new to this country. Many don't speak English well. The transition to a new school, while at the same time learning a new language, is a difficult task. This has a significant impact on a student's reading ability. Learning disabilities and late diagnoses can also cause obstacles. Things like dyslexia or a simple need for glasses can take time to notice or diagnose. My point is this: some students face conditions that are frustrating. Teachers, students, and parents often face similar frustrations. A teacher's work day is already full, and most teachers don't have much time to work with students individually on things like reading. Pulling these students aside to help with reading ends up hurting them academically and emotionally. It's possible, in these situations, for the students to blame themselves for something that is actually out of their control. This can lead to lack of interest at school.
So, what can be done? What is the solution? I think the solution is out-of-school time.
Recent studies reveal that out-of-school time can be just as important as classroom time. In other words, after-school can be just as important as the school day. Funding after-school programs such as Simpson Street Free Press (SSFP) is essential. There are probably many good programs around Madison but for me, in my neighborhood, it was SSFP. That's the place that kids in my neighborhood could always go for powerful and meaningful academic support. And it's one thing we could do right now to drive up reading scores. We can make sure all students can read before they get to high school. But to this, we must support and fund out-of-school time programs that focus on reading and know how to do it. One study I looked at says "the size of children's vocabularies, reading comprehension, and verbal skills are directly related to the quantity of text they read. Because children are typically given little time for reading in school, reading during out-of-school time is the primary way to increase the amount of reading children do, hence building their reading confidence." (Cunningham and Stanovich)
That's exactly what I got at SSFP. Reading and writing is constantly emphasized at SSFP. Working for a newspaper is hard work, but it's also fun. So, for me, beginning in 5th grade, SSFP provided high-impact, core-subject academic instruction for free. Not only was it free, but when I completed and published an article, I got paid. Students are always willing to read extensively, write and revise, when they get paid for their work in the end. What's more, SSFP assigned articles to me that matched what I was learning in class. I wrote about ancient Greek civilization, world disasters, advancements in technology, and famous historical figures. Experienced older kids and volunteer editors were always around to help. Nobody got pulled aside and everybody, no matter how inexperienced, felt smart. SSFP floods it newsrooms with practical, one-on-one reading and academic support. Whether reading about hurricanes in Texas or ancient Greeks, we call it close reading. And SSFP was always open, at multiple sites, 52 weeks per year. I can't even begin to describe how much close reading and revision work I've done since 5th grade.
As you might have guessed, I'm now one of those more experienced high school kids who works as a mentor and editor at SSFP. I'm proud of what I do because it's my job to help younger students read and write. I work with lots of students who face the same academic barriers I described earlier in this essay, and the same barriers I faced six years ago. I found Simpson Street Free Press. If students around Madison can regularly find and get access to these kinds of out-of-school time opportunities, reading scores would skyrocket. A study by the National Center for Quality Afterschool says "a primary way that English language learnings become more proficient in English is through frequent, meaningful interaction with native English speakers. All students, especially ELLs, benefit from exposure to learning strategies and study skills." That exactly what happened for me while working at a newspaper. I mixed with and worked with all kinds of kids. We all helped each other and we all learned to read.
When Madison invests in high-quality, literacy-focused out-of-school time academic achievement and reading scores will go up quickly. Behavior issues will go down. Local employers will find more job-ready young people. Parents and teachers will be less stressed. And we will have changed Madison forever.