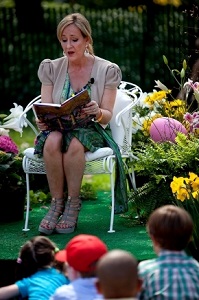 J.K. Rowling is regarded by the world as a highly successful writer due to her creation of the Harry Potter series. But before Rowling achieved fame, she went through a dark period. During this time, she faced many challenges that threatened not only her writing career but also her well-being.
Up until her mid-twenties, Rowling led a relatively normal life. She grew up in southwest England with her mother, father, and brother. But when she was 25, just six months after she began writing the first book of the Harry Potter series, her mother died following a 10-year battle with multiple sclerosis.
In pursuit of a fresh start, Rowling moved to Portugal. Here, she got married after two years; however, the marriage fell apart after a mere 13 months. Rowling moved back to the UK with a new responsibility born out of the unsuccessful marriage—a baby. Jobless and penniless, she struggled to support herself and her daughter. The only motivation she had at the time was her writing, as she was still working on the first installment of the HP series. Finally, after four long years, multiple rejections, and denouncing her female name to appeal to an audience of young male readers, Rowling published her first book in 1997.
To put it simply, the book was a huge success. In just a few short months, Harry Potter and the Sorcerer's Stone made it onto the best-seller list. In the same year, Rowling won the British award for Children's Book of the Year. But that was only the beginning; Rowling's success continued to skyrocket. By the summer of 2000, Rowling's first three installments of the HP series had sold 35 million copies, were printed in 35 languages, and had grossed up to $480 million. In 2007, Rowling finished the last book of the HP series. By then, the total revenue of the series earned her a spot among Britain's top 20 wealthiest women, thus making her wealthier than the Queen of England herself!
Rowling's story serves to inspire all people regardless of gender, race, or age. Her success represents the message that anything can be achieved with determination and hard work. Relying on only herself, Rowling managed to transform her life. She truly embodies the aspects of a high-achieving individual from whom everyone can aspire to learn.
[Sources: Business Insider ; Biography.com ]