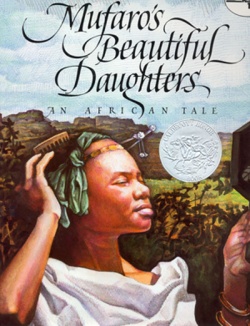 When I was younger, I loved reading Magic Treehouse , The Baby-Sitters Club , and The Boxcar Children books. I loved how these stories were full of talking animals and inanimate objects coming to life. But I noticed that all of these series' protagonists , another word for main characters, were white. When I realized this, I also noticed that in the rare times I did read about a young person of color, it made me feel important and almost special in a way. It took me quite a while to pinpoint why.
For many years, the omission of people who look like me in children's books was never really that obvious to me. I just didn't think much about it because reading has always been one of my favorite things to do. Aside from my usual history books, I enjoy realistic fiction and mystery. I've related to many classic protagonists from Junie B. Jones and her sibling problems to Judy Moody with her odd family life and Nancy Drew and her endeavors to solve mysteries. I usually had several similarities with the characters in the books I read while growing up expect for one specific trait: none of them were Black.
Mufaro's Beautiful Daughters by John Steptoe taught me that I don't have to be white to be a queen. Virginia Hamilton's The People Could Fly described for me the richness of African-American history. And while reading Amazing Grace by Mary Hoffman, I could relate to Grace's love of stories. These books reminded me that I can be anything I set out to be. I truly connected to these stories on a whole new level. I felt like I could actually be in any of their characters' shoes.
I found myself drawn to these stories time and time again. But as I thought more about the lack of representation of people of color in my books and the media in general, I was left feeling like I did not matter. Often, I suppressed my identity to fit into the molds of the white characters I read about in my books.
Nancy Larrick, a children's book editor during the 1960's, was one of the first people to stand up against the lack of diversity in the children's book industry. In that decade, only five percent of U.S.-produced books featured Black protagonists. Between 1994 and 2013, this figure grew from five to 10 percent. In 2014, it increased to 14 percent. The same year, a grassroots organization called "We Need Diverse Books!" launched. This campaign aims to publish more books featuring people of color. In 2015, the then 11-year-old American Marley Dias took action and collected 1,000 books about Black girls for her school. Dias used the Twitter hashtag #1000blackgirlbooks to spread her movement.
A recent The New York Times column on this subject mentions a metaphor by American author Rudine Sims Bishop: "[b]ooks can be windows into worlds previously unknown to the reader; they open like sliding glass doors to allow the reader inside. But books can also be mirrors."
When we see ourselves in the "mirrors" that are books, we are told that our identities and experiences are valued and recognized. Books that don't reflect us—and those that refrain from reflecting us positively—tell us the opposite.
Today, I find myself keeping a close eye on the books I read. I want to make sure I read books about all kinds of people. Thankfully, more people nowadays seem to recognize the need for diversity in books. At libraries, I'll see displays with the words "We Need Diverse Books!". Whether these books are on a small table or take up a whole wall, I believe we are headed in the right direction. At the same time, though, it's important that the books about Blacks, Latinos, Asians, Native Americans, and other underrepresented races and ethnicities are not sectioned off from those about white boys and girls but rather are integrated with them. Books with protagonists of color should be mainstream.
It's time to stop casting people of color as minor characters in our children's books. And it's time that people of color aren't reflected as just the "other"—both on and off the pages.