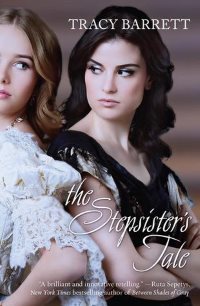 "The Stepsister's Tale" by Tracy Barrett, published in July 2014, is a twisted medieval version of the classic tale "Cinderella." Instead of following "Cinderella" as the protagonist, however, it centers on one of the stepsisters, Jane Montjoy.
Jane and her little sister, Maude, live in an old mansion with their mother. Years before, their drunkard father deserted the family so, in order to get food for Jane and Maude, their mother is frequently forced to leave their crumbling home. She trades their homemade cheese and milk for bread and other foods in town. Once their mother leaves for an exceptionally long time and, when she finally returns, she brings back a man and his beautiful yet spoiled daughter, Isabella. To gain financial support and security, their mother marries him. This new "father" does not like Jane or Maude at all, though, and the two girls become instant enemies of Isabella.
The story's plot takes a big turn when the girls' stepfather falls ill and dies. This makes the family even worse off, especially because Isabella is an extra mouth to feed.
Meanwhile, Jane starts trading with a family from the woods, which provides her family with slightly more food. Yet, even this extra food declines as the winter wears on. Jane grows quite close to the family from the woods, the Foresters. They have a son who is about her age, Will, and the two of them enjoy spending time together.
In the middle of their struggles, the prince of the town sends out an invitation for the unmarried ladies to attend a ball, at which he intends to find the perfect bride. Since Isabella is still in mourning, their mother refuses to let her go. However, Jane wants the prince to like Isabella so that he will marry her and take her away. Will Isabella end up at the ball? Will Jane and Will end up together? Read this novel to find out if and how its end differs from the classic "Cinderella."
I like Barrett's style because she writes with the voice of a modern teenager about a medieval period. I also appreciate how she develops her character; the females in the book are not weak and simple ladies. Instead, both Jane and Maude are very capable and strong girls.
"The Stepsister's Tale" was a really enjoyable read. It flowed nicely and did not drag on. I also liked the setting of a kingdom with a castle and a mansion, as well as Jane's double relationship with the Foresters and her family. I definitely recommend this book to teenage girls who like romance and drama.