Book Review: Eleanor and Park
Written by Rainbow Rowell
Reviewed by John Crim, age 14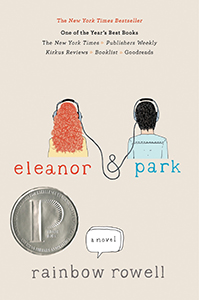 Eleanor and Park, written by Rainbow Rowell, is filled with romance and suspense. It is about a boy named Park, who is a simple boring guy, and Eleanor, a new girl at school, who is a bit of a misfit. These two characters form an unlikely alliance.
When looking for a place to sit on her first bus ride, Eleanor finds that no one is wiling to give up a seat. Instead students jeered at her. Since it was causing a big scene, Park scooted over to let her sit by him, beginning an odd romance.
This book drives home themes about friendship, kindness and empathy. The main characters of this book learn many lessons from each other. Park learned that you should always be nice and kind to others because you don't know what their home or school situation is. Like in the beginning of the book, for example Park takes Eleanor for just a middle class kid like the rest of his classmates, but then he learns that her family is struggling. Eleanor and Park also learn the importance of sharing open heartedly with each other, because it can strengthen your relationship. Eleanor and Park shared their comic books and learned more about each other's interests.
There are a couple things I liked and a couple things I disliked about the authors' writing style. I liked that she used relatable topics that kids appreciate, such as super heroes and TV shows. However, I disliked the fact that some of Rowell's long sentences contained too much information. This took away from the story.
I liked that the book contrasts the very different home lives and families of Eleanor and Park. For example Park has a very cookie-cutter home life compared to Eleanor's more crowded and free-spirited household. This provided insight into their characters. Another moment I liked was when Eleanor and Park start to notice cute things about each other. For example, one day in class Park notices how Eleanor's bright red hair flows down her back. The scene where Eleanor's mother argues with her boyfriend, Richie, it reveals how difficult Eleanor's home life was. Her relationship with Park helps her escape her difficult situation at home.
Eleanor and Park is a nice, love-filled story about two teenagers, who begin as strangers, but soon find themselves in a beautiful relationship. Despite the appealing love story plot, I didn't like the author's writing style, and how
slowly
the story moved.
Although this isn't my type of book, I would recommend it to 6th, 7th, and 8th graders who like romance.


You can watch John's Book Trailer for Eleanor and Park here .