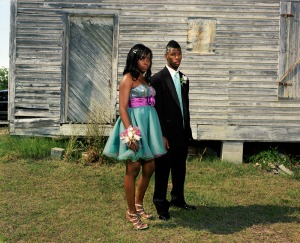 When one thinks of segregation, the first thing that probably pops into the mind is the turbulent times of the 1950s. Buses, schools, theaters, and other spaces labeled "WHITES" and "COLOREDS," are a common image of separation. But imagine spending your whole life with someone different, only to have memories of innocent, wild adolescence through a mono-toned lens, separate from your friends and partners. One daring journalist spent years in a small southern town documenting the evolution of the lives of teens.
Gillian Laub, a UW-Madison graduate who pursued photography and later became an advocate for social justice, is well-known for her work in Mount Vernon, Georgia. After graduating in 2002, she ventured south to capture incredible and personal photographs of the atmosphere of the town, primarily the segregated proms of Mount Vernon. In her time in the town, Laub witnessed not only the realities of modern segregation but also the blatant racism that persisted in the community. Shortly after receiving national attention for her reporting, Laub received threats from the majority of the town. Many times, she feared for her safety when she went back to Mount Vernon, but she persevered to complete the town's stories.
Prom in the U.S. is a celebrated tradition spent with friends, during long, tireless nights filled with dancing. Proms in Mount Vernon were similar—but students were separate. Though Black and White students shared the same classrooms, friendships, and romances, their proms were held on different nights. Black teens were not allowed into White prom, but White teens could attend both. A legacy of school segregation, the proms had been left isolated until 2009, when the town responded to nationwide criticism and integrated them. However, integrating the events was not the end of the town's problem.
"Just a Black boy," was how Norman Naesmith, a 60-something-year old White man, described his 2011 murder of Justin Patterson, an unarmed 22-year old Black man. The event poured salt on the open wounds caused by years of polarization and prejudice in Mount Vernon that refused to heal.
Jamaal Fields, a Black student at Montgomery County High School, found a noose, a symbol of lynching and the terrorism of Black people, hanging on a goal post in the school soccer field. He captured a photo of the hatred and posted it on social media, shortly reporting it to the school officials. Fields was suspended on the grounds of "misuse of technology." When asked why he tried to make the school look bad, he stated that if he chose to ignore the situation, no one would be aware.
Blatant racism is alive throughout many places in the world. Injustice especially thrives in the United States against minorities and people of color. Justin Patterson's death was not covered by the media .. Leaders such as Jamaal Fields and Gillian Laub are changing our current mainstream. Racism is not an issue we can change overnight; it is an issue that requires time and patience. Day by day, more voices are heard, and a thin string of hope is sewed into our fabric.
Southern Rites, the collection of Laub's photos and the words of resident's voices of Mount Vernon was featured at the Chazen Museum of Art.
[Source: Chazen Museum of Art ]