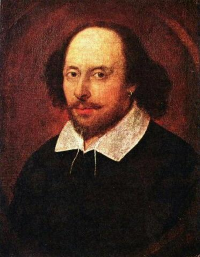 William Shakespeare, one of the most famous writers of all time, is known worldwide for his plays, sonnets and poems. Also called the 'bard,' or the 'upstart crow,' Shakespeare is best-known for his works "Romeo and Juliet," "Hamlet," and "A Midsummer Nights Dream." In fact, these works are still performed today all over the world.
Shakespeare was born in a market town 103 miles west of London, called Stratford-upon-Avon. Though there are no records of his birth, scholars assume that he was born on April 23rd, 1564. He was born the third of six children to John Shakespeare, a glove-maker and wool merchant, and Mary Arden. While not much is known about Shakespeare's childhood, scholars are certain that he attended the King's New School, where his father was a public official.
In 1582, Shakespeare married Anne Hathaway, who was eight years older than him and pregnant with their first daughter, Susanna. Two years later, their twins, Hamnet and Judith were born. Following the twins' birth, seven years are missing from the account of Shakespeare's life, thus these years are referred to as the 'lost years'.
Evidence indicates that in 1590, Shakespeare was one of the main actors and playwrights for the Lord Chamberlain's Men. After James I became king, however, this acting company changed its name to the King's Men. Following this change, Shakespeare wrote his first two published poems, "Venus and Adonis" and "The Rape of Lucrece."
Once he started publishing work making a good living in London, Shakespeare purchased a home in Stratford. After making this investment, he rarely saw his family, because he had to stay in London most of the year. He came home only for the 40 days of Lent, when London theaters were closed.
In 1599, Shakespeare and some of his fellow actors and writers built the Globe Theater, which is located just south of the Thames River. His additional purchases in real estate brought him enough income to be able to write his plays in financial security.
Shakespeare's typical works were in poetry, which he wrote in iambic pentameter (an iamb is a type of beat and penta means five, so iambic pentameter means five beats per line). Shakespeare wrote many plays throughout his life, too. His earlier plays consisted mostly of comedies and histories like "Henry V," "The Taming of the Shrew," "A Midsummer Nights Dream," and "Merchant of Venice." His last play was "The Tempest," which many think he wrote as a farewell to the stage and to his audience.
Shakespeare died in April of 1616. He left most of his property to Susanna, his eldest child. Scholars are not sure on what day he actually died, but many say it was his birthday, the 23rd. Though he died so long ago, he is still revered by many for his works and genius. However, some literary critics question whether Shakespeare was the real writer of his plays in the first place. His baptismal records prove that a William Shakespeare existed, but some historians say the true author might have been Francis Bacon, Edward de Vere, or Christopher Marlowe.
Whether Shakespeare did, in fact, write his plays, they are undoubtedly great works of art. Their beautiful language and wonderful stories will certainly be read and performed for many years to come.
[Sources: biography.com ; bbc.co.uk ]