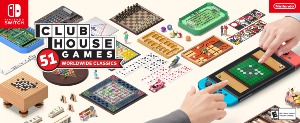 Due to Covid-19, people are spending a lot more time at home. Many are watching Netflix, going on walks, and spending time with family. A good way to pass the time with family is to play classic board games such as Nintendo's recent video game for the Switch, "Clubhouse Games: 51 Worldwide Classics."
Clubhouse Games only costs $40 and there are 51 games all packed into one! There are board games, card games, and more. Nintendo made non-copyrighted versions of many popular games. For example, Yahtzee is known as Yacht Dice in the game. You can also find games like Sorry, UNO!, and Connect 4 under their non-copyrighted names.
Two to four people can play the game together. If the full version is purchased through the Nintendo eShop, another Switch console can connect and it's possible to add more players. The games can also be played alone against a computer player. Players can also easily switch back and forth between games.
Plenty of the games are well known and have a long history. Nintendo makes sure to give a brief explanation of the history and cultures of the games they feature. For instance, did you know that the game Mancala was invented in Ancient Egypt?
Nintendo's "Clubhouse Games" is an exciting game to play because it has plenty of board games packed into a single video game. Playing online is a fantastic way to spend time while we are in a pandemic. We can even play with friends that are far away or in different countries. What better way to socially distance than to play video games with friends!
[Source: Star Tribune ]