Michael Jackson Made a Lasting Impact on Pop Music
by Aissata Bah, age 11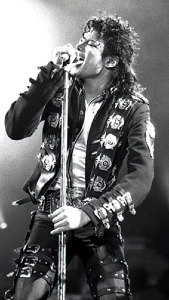 Michael Joseph Jackson was born August 29, 1958, in Gary, Indiana, the son of Joseph Jackson, who would later become his manager. He was the younger brother of Jackie, Tito, Jermaine, and Marlon Jackson, who were also musicians.
In 1969, Jackson and his older brothers formed the Jackson Five and were a part of Motown Records. They were a huge success, with four consecutive number one pop hits in 1970: "I Want You Back," "ABC", "The Love You Save," and "I'll Be There." At the same time, Jackson was performing as a solo act, recording hits such as "Ben" and "Rockin' Robin." Later, the group left Motown Records and moved to Epic Records with a new name, The Jacksons.
At Epic, Jackon made his first solo effort in 1979, Off The Wall , a best-selling album, which sold more than 20 million copies. It was produced by industry veteran, Quincy Jones. Three years later, Jackson again collaborated with Jones to make Thriller , his second solo album. Thriller earned a bunch of awards, including a record of eight Grammys. This record was popular for more than two years, selling 40 million copies. He also recorded a popular single, "Beat It," which helped bring black and white artists together because it featured a guitar solo by Eddie Van Halen. By 1984, Michael Jackson was known as the "King Of Pop." In 1985, he and Lionel Richie, another major pop star, co-wrote " We Are The World," a single for the USA for Africa, a charity, to support famine relief efforts.
In the early 1900s, Jackson's lifestyle became more and more controversial. His behavior led him to face charges in court and damaged his reputation. In 1994, Jackson secretly married Lisa Marie Presley, daughter of Elvis Presley, the King of Rock. Their marriage ended in under two years. He got married again and had children, but this marriage ended up in a divorce as well.
Even though his reputation suffered, he was still an international celebrity. But his troubles did not end there. Things got even worse in November 2003 when he was arrested on charges of child molestation. However, after a heavily publicized 14-week trial, he was acquitted in 2005. Jackson had a lot of financial problems because of his damaged reputation.
Jackson was finally ready to have a huge comeback tour but suddenly died of cardiac arrest on June 25, 2009. He had a memorial celebration on July 7 at the Staples Center in Los Angeles. In August 2009, a coroner ruled his death a homicide from a deadly combination of sedatives and propofol. Jackson's physician was convicted of involuntary manslaughter in November 2011.
In 2021, people still listen to Michael Jackson's music because he left such a large impact on the music industry, especially between his time in The Jackson 5 and his solo performances.
[Sources: Encyclopedia Britannica ; Biography.com ]