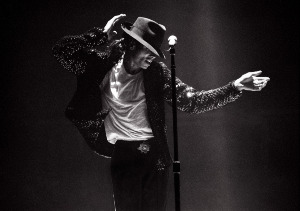 Michael Jackson was born in Gary, Indiana on August 29th, 1958. He had eight siblings. Their names where Rebbie, Latoya, Jackie, Tito, Jermaine, Janet, Marlon and Randy. Jackson father worked as a crane operator in a factory. But he also played guitar. Soon the family formed a musical group called the Jackson 5.
Eventually the Jackson 5 caught the attention of Motown founder Berry Gordy. Berry Gordy signed the Jackson 5 to his Motown record label in 1965. By 1970, the group became very popular.
In 1972, Michael Jackson went solo. After five producing albums, he became known as the king pop. In 1982 he came out with his album Thriller. Thriller is the best selling album in history, even today. It stayed on the billboard charts for 80 weeks and held the number one spot for 37 weeks. Thriller won 12 Grammy award nominations and won eight times.
Michael Jackson also collaborated with Paul McCartney and other Grammy award winning artists. He performed in the Super Bowl XXVLL half-time show. In August 1994 Michael married Lisa Marie Presley, but they divorced in 1996.
On June 25, 2009, Jackson died from overdosing on a prescription drug that his doctor gave him. His doctor wasn't licensed to give the drugs to Michael. The police figured out that the chemicals in the drug killed Michael Jackson. As you can see, Michael Jackson deserves the title "The King of Pop."
[Source: biography.com ]