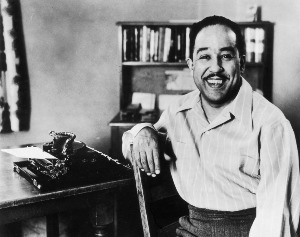 Langston Hughes was an African American poet, playwright and novelist. He became an early cultural icon, and his writing became part of the Harlem Renaissance during the 1920s. He focused on the failed dreams and bright hopes of his world.
Langston Hughes was born on February 1, 1902, in Joplin, Missouri. His parents separated when he was just a child. His father moved to Mexico, and Hughes was mainly raised by his grandmother. When he became a teen, he lived with his mother in Cleveland, Ohio. He started writing poetry around this time because of Carl Sandburg and Walt Whitman, and he was involved in the literary magazine in school.
In 1920, Hughes graduated from high school. During this time Hughes created a poem, "The Negro Speaks of Rivers," which was published in the Crisis Magazine , and received positive public feedback. He studied at Columbia University where he became heavily involved in the Harlem Renaissance. There, he created empowering works of art. However, he dropped out in 1922 and the next year he signed up as a steward on a freighter. Through this experience he visited Africa and Spain.
In 1925, when he returned to the U.S., Hughes wrote the poem "The Weary Blues" and won first place in the Opportunity magazine competition for literary. This gave him a scholarship to attend Lincoln University. This was the turning point in his life when he realized that he could get paid to write poems. Hughes graduated from Lincoln in 1929 and published his first novel Not Without Laughter . He then traveled to Japan, Haiti, the Soviet Union, and throughout the United States for book tours. He later published his first collection of short stories, The Ways of White Folks , in 1934.
Hughes began contributing to a column in the Chicago Defender in the 1940s. He created a comic character that was named Jesse B. Semple, who became a popular character in the column, leading to major success for Hughes. He also wrote some of the lyrics for the musical Street Scene . Later, he got a job teaching creative writing at Atlanta University. Once he earned enough money, he bought a house in Harlem. For decades afterwards, Hughes continued his poetry. One of them even inspired the opera Troubled Island . He died May 22, 1967, from prostate cancer.
Langston Hughes contributed to the Harlem Renaissance with his work, and his writing continues to inspire and impact people today.
[Source: biography.com ]