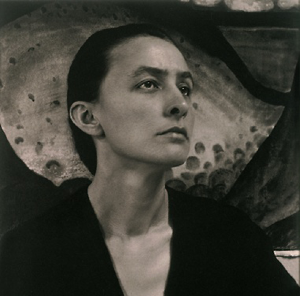 When Georgia O'Keeffe finished eight grade she decided she wanted to be an artist. She had this epiphany after seeing a drawing in one of her mothers' books depicting a girl that she thought was beautiful. She said, "that picture started something in me that kept on going and has had something to do with the everlasting urge that makes me keep painting."
O'Keeffe was born on a farm around Sun Prairie, Wisconsin in 1887. She said, "I always feel I was very fortunate to have grown up on a farm. I had a very pleasant childhood, though I was somewhat of a rebel." When O'Keeffe was 13, she attended Sacred Heart Academy, which was a boarding school just outside of Madison. It is now known as Edgewood High School. She spent the next year at Central High School in Madison, where she began taking art classes. At first the teacher scolded her for only drawing heavy black lines. The same teacher however, encouraged her to use the natural colors of her subject.
Due to the harsh Wisconsin winters, O'Keeffe's father's health was at risk, so her family moved to Williamsburg, Virginia. When she got there, she attended high school at Chatham Episcopal Institute where she continued to take art classes. She took many walks with her class while using her artistic abilities to draw and paint things such as valleys and mountains.
O'keeffe knowing she was somewhat of a rebel, hated school. The only parts she liked were the walks she and her classmates took with her art teacher. She also was a huge fan of the wild west and novels that were solely about rebels such as Kit Carson, Billy the Kid, and others. Years later, while she was teaching at Columbia University in South Carolina, O'Keeffe realized that she did not need to mimic her peers. Instead she should be her own person. As a result, she decided to "trust her own way of thinking" and used her own painting techniques.
O'Keeffe's love for Texas started in her childhood when her mother would read her stories about the South. Therefore, when she was offered a position there, she took it. She loved everything about Texas and didn't mind the dust, hot sun, or harsh winds. When her sister started living with her, they would take walks miles away from town in the evening so they could watch the sunset. O'Keeffe especially favored the evening stars and made ten different watercolor paintings from them. She describes the landscape of the painting, "Like the ocean but it was wide, wide land [when] the evening star would be high in the sunset sky." O'Keeffe's watercolor No. 4 shows abstract shapes such as circles to showcase the single evening star and vibrant color such as yellow and red. This differentiates the star from the colors in the sky. Although it was supposed to be the desert, she painted it as if it was the ocean, as she mentioned above. This "ocean" is located at the bottom of the picture, it is a deep blue and turquoise color that makes a wavy pattern, that of which made them look like waves or an ocean.
Even though O'Keeffe lived in New Mexico during most of her adult life, she often exhibited her art in New York. She sent charcoal paintings to her friend in New York, specifically informing them not to show the paintings to anyone. However, her friend showed them to Alfred Stieglitz out of excitement, which lead Stieglitz to exhibiting O'Keeffe's work without her permission. His gallery was called the Alfred Stieglitz Gallery "291". O'Keeffe found out and came to New York to argue with him, but he convinced her to keep them up. Eventually they fell in love and got married in 1924. Stieglitz continued to exhibit her paintings of New Mexico. After her husband's death, O'Keeffe lived in New Mexico permanently. Her legacy was documented in a 1977 PBS documentary called "The Originals," which is still available on their website.
O'Keeffe wanted others to "take time" to appreciate nature. She said, "A flower is relatively small… it is so small-we haven't time-and to see takes time like to have a friend takes time." Her flower paintings from the 1920's are a good examples of this. One of them is called "Red Poppy" (1927). O'Keeffe used a bigger canvas and painted a large flower, taking up most of the canvas, giving viewers the idea that the painting is important and deserves to be looked at. The flower is bright red and the petals look beautiful and delicate with frilled edges. O'Keeffe very explicitly shows the contrasting shading which defines the shape of the flower. This one piece demonstrates the detail and heart behind all Georgia O'Keeffe's art.
[Source: Wisconsin Women ]