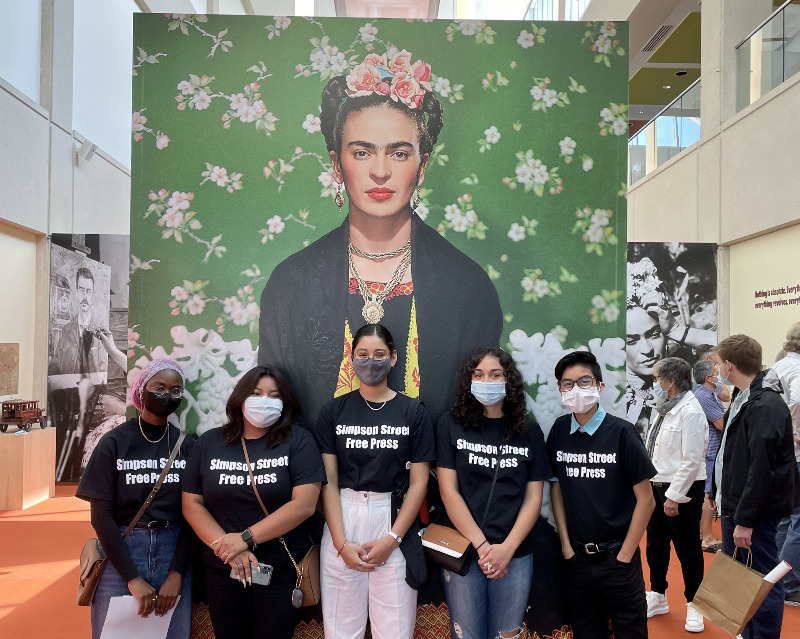 Exploring the Life and Legacy of Frida Kahlo
by Valeria Moreno Lopez, age 15
The famous Mexican artist, Frida Kahlo, is known for her original and symbolic self-portraits and paintings. A new and important Frida Kahlo exhibit opened recently in Glen Ellyn, Illinois. The exhibit is titled "Frida Kahlo: Timeless" and opened on July 31 at the Cleve Carney Museum of Art at the College of DuPage.
"Timeless" showcases Kahlo's life story and includes 26 original works. Most of the pieces in the show were inspired by events in Frida's life.
Early on a Saturday morning, a group of seven Simpson Street students met at our South Towne newsroom for a Frida Kahlo exhibit field trip. As we excitedly arrived at the College of Dupage, large posters with Kahlo's face and name decorated the entrance, welcoming us. Before getting into the actual exhibit, museum workers checked and confirmed our tickets.
The first artwork we encountered was a portrait of Frida Kahlo, wearing a black dress and shawl, and long jewelry. Then, as we moved to another area in the exhibit, several real-life photographs of Frida's childhood and adolescence adorned the wall. Right next to the pictures, there was text written on the wall to narrate her life's stories. In the middle of the room stood a replica of Frida's childhood bed, where she spent months after a bus accident, and where she developed a passion for painting.
There were different categories of images from her private life, such as her relationships, political and religious beliefs, and the start of her career. Five copies of the indigenous dresses that Frida once wore were placed on a platform, making them hard to miss. Large murals and small framed pictures of Frida Kahlo popped up everywhere in the room; most were never before seen or exclusive images.
Outside the exhibit, powerful quotes from Frida are imprinted on the windows and walls. We walked to a separate, museum-like exhibit that held replicas of Frida's paintings and self-portraits. To prevent people from getting too close to the framed paintings, a trip wire was set a few feet away from the wall. All of the artworks capture Kahlo's distinctive skill and vision. Each one told a story on its own.
Frida's painting style was influenced by indigenous Mexican culture: vibrant colors and cultural symbols. The next place we visited was a dark blue hallway that seemed to be dedicated even more to Frida's intimate life. There were many pictures of Frida and Frida's husband, Diego Rivera, being romantic. Some photos of Frida lying on a hospital bed, assumingly after a surgery or an accident, showed the result of her curved spine. Painted in front of the blue hallway was a large mural of Frida looking down and covering her mouth, wearing many rings and her famous flower crown.
After visiting an exhibit full of moving artwork, we wandered through the gardens, discussing and analyzing what we had just seen. On the ride back, we knew this field trip was a wonderful experience and opportunity to learn more about Frida Kahlo.
The "Frida Kahlo: Timeless" exhibit is open seven days a week until September 12, 2021. Museum hours are 10am to 6:30pm, and Thursdays until 9pm. The exhibit is presented by the Cleve Carney Museum, the McAninch Arts Center, and the College of DuPage.