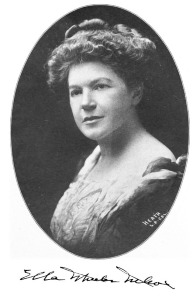 Society in the latter half of the 19th century held the rigid expectation that women limit their activities and aspirations to housework and raising a family. These expectations were present for, yet irrelevant to, Wisconsin's most famous poet, Ella Wheeler Wilcox.
Ella Wheeler was born to an artistic family on November 5, 1850, in Johnstown, Wisconsin. The family excelled in both music and writing; Ella's brother, Marcus Wheeler, published articles in the Wisconsin State Journal. Despite their inclination for the arts, they were a farming family, even though farming was not their strong suit. In order to try their luck in a different area, they moved and settled down in Westport, just north of Madison, when Ella was 18 months old.
During Ella's childhood, her family let her develop her artistic side by writing poetry instead of focusing on domestic chores. Her interests went against the norms of society, especially those of her neighbors. However, she did not let their opinions influence her actions. Ella finished her first novel at age ten, and she based her protagonist on her friend, Anne Fields, a fellow rebel. A few years after her writing debut, Ella decided to try a new platform for her work. She secretly made an agreement with the New York Mercury. She was given a free subscription, much to the surprise of her family, in exchange for her articles.
Ella's writing drew more attention in her early twenties through her support of the Prohibition movement. Drops of Water, her collection of 56 poems favoring Prohibition, gained international recognition. She received the title of "Temperance Poet Laureate of Europe and America."
The next few pieces of writing she published, such as Maurine and Poems of Passion, drew the attention of many critics, for example, the New York Sun, and also some suitors. First, the poet James Whitcomb Riley admired her writing and asked to see her. However, after spending time with Ella and realizing she valued pastimes like dancing, he deemed her too trivial. In turn, she decided he was "an impossible person" and not worth her time. She then caught the eye of an International Silver Company representative, Robert Wilcox. They soon recognized they were a good match and married in 1884.
After living in Connecticut for a short while, Ella and her husband moved to New York City. They then entered "high society" at parties thrown by Mrs. Frank Leslie, Ella's publisher. Countless men tried to woo her, nevertheless, as men reported to biographer Jenny Ballou, Ella remained "ridiculously enamored" with her husband.
Both Ella and Robert were invested in spirituality and believed in bringing religion together with service, along with believing in life after death. This outlook aided Ella in coping with the loss of her husband in May 1916. After continuing to publish her opinions on a range of topics including divorce, female equality, abortion, and sexual problems, she also spread her views in person by going to France and visiting soldiers in World War I.
Ella's journey came to an end as she developed an untreatable malignant tumor. Following hospitalization in England, she returned to the States. Ella was taken by an ambulance upon her arrival in America and died in her home soon after on October 30, 1919. The voice of the defiant author from Wisconsin known worldwide remains alive through her vibrant words and continues to be an inspiration for women everywhere.
[Source: Wisconsin Women ]