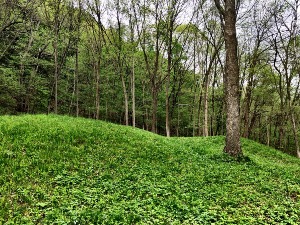 The Midwest, especially the state of Wisconsin, is covered with thousands of ancient effigy mounds. From ground level, these mounds usually just look like small hills, but they were actually created by Native Americans hundreds of years ago. Some of these mounds are over 1,500 years old and can be over 100 meters in diameter. These mounds are usually made in the shape of an animal or human. It is believed that they were often built at the base of hills in order for the entire mound to be seen during construction.
The main reason effigies were built was to serve as graves. Burial usually involved the body being placed in a pit, or on a platform, and the mound being built over it. The effigy mounds were usually made of dirt or clay, but in some cases, they could be made of other materials.
One state park that is notable for its effigy mounds is Aztalan State Park, in southern Wisconsin. This area is one of a kind, because instead of the usual smaller mounds built by the locals, these massive pyramid style mounds were made by migrants from a more advanced society near what is now Saint Louis. Little is known about this civilization, or its disappearance around 1200 A.D. As well as the mounds, this settlement also had a temple and walls surrounding it, which still exist today. The name, "Aztalan," came from Spanish settlers thinking that the abandoned settlement was related to the Aztecs.
Another place known for its effigy mounds is Cranberry Creek State Natural Area. This area in central Wisconsin contains dozens of effigies. Most of the mounds are in the shape of bears or panthers, but there is also an eagle with a 40 meter wingspan. These mounds were created between 100 and 800 A.D.
The high ridges that surround Lake Winnebago at High Cliff State Park were ideal for building effigy mounds, because they allowed builders to view the mound during construction. These were built by the nomadic Siouan people, around 500 A.D.
The Madison Area has over 800 effigy mounds, many of which are located on the UW campus or the UW Arboretum. The Madison area also includes what is thought to be one of the largest effigy mounds in the world, which is an eagle with an over 200 meter wingspan.
The panther shaped effigy at Fort Atkinson is unique because it is dug into the ground, instead of being built up out of it. This is called an intaglio. There used to be dozens of intaglios in Wisconsin, but this is the only known one that remains.
Another unique effigy is the mysteriously shaped mound, which lies just off Great River Road, south of Hager City. This mound is unique, because it is made of large boulders, rather than dirt or clay. Although it is unknown what this mound was meant to be shaped like, it is most likely supposed to be a bow or some type of bird. This effigy also points toward Lake Pepin, but it is not known if this is intentional.
Human shaped effigies are not as common as animal shaped ones, but there is still a fair number of them. One of the most memorable ones is the 70 meter "Man Mound," just north of Baraboo. Like many other mounds, this one was partially destroyed by construction, losing its lower legs ironically to the road named in its honor.
Although there are over 4,000 effigy mounds in Wisconsin, this is only 20 percent of the original 20,000 that once existed. The other 16,000 effigies have been destroyed by construction. Many efforts are being made to protect the remaining mounds from similar fates. These effigies tell an important part of Wisconsin's native history before colonization, which is already a period, which little is known about.
[Source: travelwisconsin.com ]