A Shooting Star in American Music History
Drugs Killed Billie Holiday, but not her Music
by Sara Diaz, age 15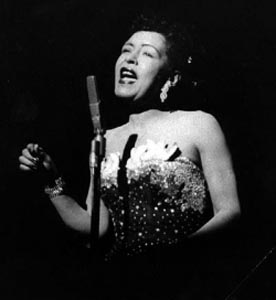 Despite tough obstacles throughout life, Billie Holiday managed to become one of the greatest jazz singers of all time. That's quite the accomplishment, even if her career didn't last long.
Holiday and her mother came from Baltimore, Maryland, but made their way to Harlem, where she began her career. When Holiday was young, she was hired as a singer when looking for a dancing gig. This led to more jobs singing at popular social pubs and jazz hangouts. After dropping out of school in fifth grade, Holiday began work at a brothel running errands. She and her mother faced extreme poverty. This made them desperate and willing to do anything for money. Holiday would do anything she could to help her and her mother survive.
In 1933, when Holiday was 20, the jazz writer and producer John Hammond heard her talent and claimed her as the greatest singer he has ever heard. Hammond knew he had to have her, so he arranged for other great jazz artists to work with her. These included Benny Goodman, Teddy Wilson, Duke Ellington, Ben Webster, and one of her closest friends, Lester Young. Young and Holiday made remarkable music together.
One popular song the two made was, "Strange Fruit," a song about lynching. People, especially African Americans, could relate to the song. It was powerful with  slow but moving sound mixed with creative and booming lyrics. Because of that song, Holiday's audience grew. She started to gain more fame and popularity.
Even with all this fame and money, Holiday still struggled with life. In particular, she struggled with drug addiction. This affected her health and her finances. Of course a star like her had tons of money, but the majority of her wealth went to drugs.
In the late 1940's, Holiday's mother passed away. With this heartbreaking news, her drug addiction got even worse. It was so bad, she was arrested multiple times, checking into institutions, she even got denied a license to perform in places that sold alcohol.  Her addiction grew and expanded to alcohol as well. Until eventually her perfect voice wasn't so perfect anymore.
Despite her rough life and the mistakes she made, Billie Holiday also made music history. Her music would reach out and connect with people, showing them they're not alone. It  also explained her life story and how challenging it was, but that she still made it big. Billie Holiday was an inspiration to many people. Today, she remains an iconic figure in American music history.
[Source: pbs.org/americanmasters/episodes/billie-hiliday/about-the-singer/68/]