Play Ball! New Youth Baseball League Launches in Madison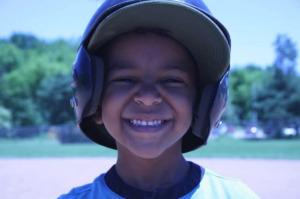 On a sunny Saturday in early July, several Simpson Street reporters headed to Elver Park to watch a baseball game. It wasn't just any game though; it was a little league game played by kids from all over Madison, including one of our own staff writers, Max Moreno!
This little league program stands out from the rest of the little league teams in the area. It was started by Corey Marionneaux, former baseball player and the President of the Black Men Coalition of Dane County. He created the program after learning that kids who looked like him weren't getting an opportunity to play baseball here in Madison.
"As I researched more, I learned that we have historically low numbers of Black Americans participating in the sport of baseball right now. So, I decided to do something about that," said Marionneaux.
The league is completely free – uniforms, equipment, and transportation are all provided by Marionneaux and The Black Men Coalition of Dane County. The league is also co-ed, and it includes children from five to twelve years of age. Their 2022 season started June 25. Games are played every Saturday and Sunday throughout the summer, with an end of the season tournament August 27 and 28 at Bowman Park. The program has five different leagues for kids: T Ball, Machine Pitch, Rookie League, AAA Baseball, and Majors Baseball.
It means a lot to these families that the league is so accessible. "It eliminates barriers and it welcomes these kids in saying that they can do it, giving them a chance." says Johnny Justice, father of a nine-year-old in the program.
In the future, Marionneaux hopes the league will continue, and eventually have its own park and fieldhouse so kids can practice in the winter as well. One day, he says, they launch similar youth hockey programs. Marionneaux also said he thinks of this program as more than just sports, but also a way to bring the community together.
"It also brings mentorship, learning to be a team player and practicing good sportsmanship. And most importantly, a positive atmosphere for everybody."
During our visit, we talked with several parents who agree Marionneaux. Sarah Galinski, parent of three kids in the program, said "I'm speechless with the impact of this program on my family. It helps with things to do, keeps them involved and busy. This is love."
Max Moreno, a 10-year-old writer at Simpson Street Free Press, also agreed. "I love baseball and this is chance for me to learn the game and also have lots of fun," he said.
To learn more about the Black Men Coalition of Dane County Youth Baseball league visit https://baseball.bmcdc.org/.
[Sources: captimes.com; Channel 3000]