Powerful Advocate for Education:
Our Interview with Dr. Willie Larkin
"Whatever you vividly imagine, ardently desire, sincerely believe and enthusiastically act upon, must inevitably come to pass."
That's a quote from Dr. Willie Larkin, the recently retired Director of Strategic Partnerships for Madison Metropolitan School District. In a recent interview, Dr. Larkin told us he lives by those words. During our discussion, he reflected on growing up on a sharecropper farm to pursuing higher education, something he had once believed was beyond reach.
Recently, a group of Simpson Street Free Press writers visited the school district's Doyle Administration Building to meet and interview Dr. Willie Davis Larkin. We talked about his career, life experiences, and his time at MMSD.
Dr. Larkin was born and raised on a sharecropper farm in rural Georgia, where he grew up alongside his seven siblings picking cotton and tending the fields. For 19 years, he believed he could do more, but his father was at times hesitant to support him.
'I know my dad loved all of us, but I think he was blinded by the fact that "I need this physical labor to help me work this farm.'" Eventually, Dr. Larkin attended Tuskegee University with a small financial aid package and big dreams.
Dr. Larkin played baseball at Tuskegee, trying his best in his academics. "My first semester was not good at all. I performed poorly and then when I went home for Christmas break. My dad reminded me, "I didn't send you to school to waste our money, so when you go back in January, if you don't improve, you're gonna be right back here picking cotton and cropping with the rest of us.'"
When he returned to school, Dr. Larkin was concentrated and focused, and he made it his goal to excel.
While at Tuskegee, Dr. Larkin also met the love of his life, Dr. Vivian M. Larkin, and the two have been married for over 40 years. "My wife had this stipulation, 'in order for me to marry you, you have to have a Bachelor's degree.' I looked at her and I was in love at the time—I still am. I said to myself, I have to do better, and all of a sudden I became a better student."
As soon as he got his BS degree in Agricultural Education with a minor in Animal Science, he completed his Master's of Education—all within five years.
After graduating, Dr. Larkin worked in many leadership positions. One of his first jobs was at the University of Georgia as a 4-H county agent. Later, he attended Ohio State University to receive his Ph.D., and then took on a role at Auburn University in Alabama, where he worked for 25 years. As a State Extension Specialist with the Community Resource Development Division, he established cooperative agreements in Alabama and with other land-grant universities.
While working in Alabama, Dr. Larkin was the recipient of the Kellogg National Fellowship Program Award. He traveled the world and wrote about leadership and human resource management in different countries.
After his time at Auburn University, he moved to Wisconsin, working with then-Chancellor Dr. David Wilson as Chief of Staff. When Dr. Wilson was hired as Morgan State University's 12th president, Dr. Larkin was invited to be his executive secretary. In 2016, Dr. Larkin applied to fill a vacancy at Grambling State University, one of the nation's most famous historically Black universities. He was unanimously elected by the University of Louisiana System Board.
After his time at Grambling, he returned to Madison to work as Edgewood College's Chief of Staff and Diversity Officer. And then Dr. Larkin accepted a position as Director of Strategic Partnerships for MMSD. During his time there, Larkin focused on building connections in the community.
"What we do is work with community groups and organizations to basically fill in the gaps for MMSD students." Programs like Achievement Connections, Advancement Via Individual Determination (AVID), and Schools of Hope give MMSD some excellent partnership opportunities, says Larkin. According to Dr. Larkin "MMSD can use its partnerships to help students be successful, in school and out of school."
During our discussion with Dr. Willie Larkin, we covered a wide range of topics. It was clear to us that his background and professional experience helps guide his thinking. Dr. Larkin is a powerful voice and an advocate for education.
Dr. Larkin says he plans to be active in the Madison community. He currently serves on the board of directors for 100 Black Men of Greater Madison and the Agrace Hospice Foundation. "Being involved in the community is therapeutic for me" he says. "I think that we need more people willing to give back and to and support their community."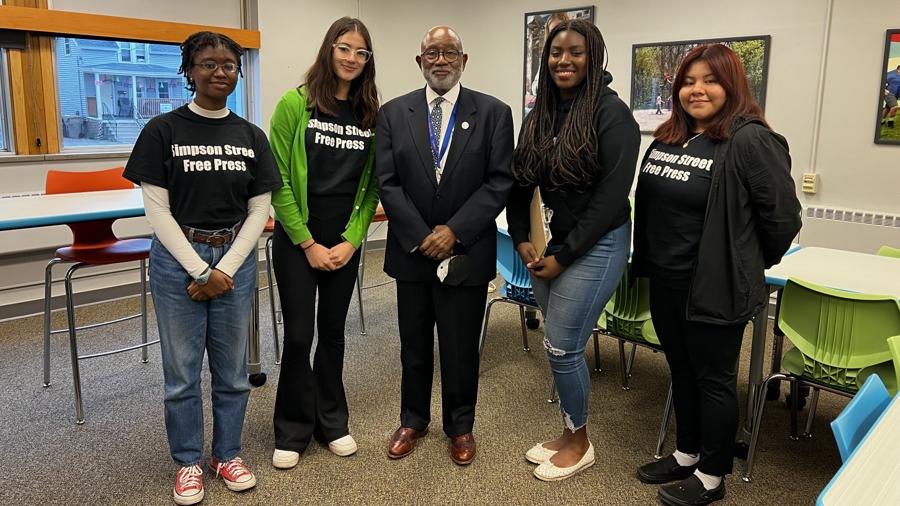 [Sources: madison.k12.wi.us; Simpson Street Free Press Archives; madison.com]