Land Purchase Creates New Ice Age Trail Park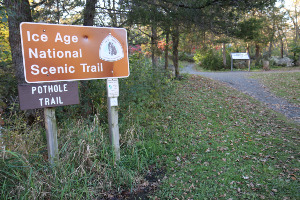 One of only eleven National Scenic Trails, the Ice Age Trail highlights unique beauty seen on a thousand-mile footpath in Wisconsin. The trail stretches from St. Croix Falls in Polk County to Sturgeon Bay in Door County and travels through 30 counties, including the County of Dane. That is where the county and both the Cities of Madison and Verona have proposed to pay $2.7 million for land that would fulfill connections missing in the trail.
This parcel is about 40 acres and is located west of Madison in a quickly-growing area that is covered by a forest containing mature oak. It is "a wonderful example of glacial geology," according to the Director of Land Conservation for the Ice Age Trail Alliance, Kevin Thusius.
"The glacier ended right here and it left behind glacial till—a lot of rock and debris that created a nice hill," he said. This parcel of land includes examples of landscape features like kettle ponds—where a piece of ice was left after the glacier melted away. A study completed in 2019 said the trail is used by about 2.3 million people each year, a number that has certainly "increased significantly since," according to Thusius.
Dane County Executive Joe Parisi, City of Madison Mayor Satya Rhodes-Conway, City of Verona Mayor Luke Diaz, Town of Verona Chair Mark Geller, and Ice Age Trail Alliance representatives made an announcement in November of 2021 saying that the parcel would be purchased for its appraised value. This land will be bought from Mary M. Christiansen, Loveday Herrling, and the Martha G. Cowling Revocable Trust. According to this agreement, the County of Dane will pay $1.66 million, the City of Madison $540,000, and the City of Verona $500,000. Maintenance services, such as mowing and snow removal, will be provided by the Town of Verona, while construction and maintenance of the new trail segment will be provided by the Ice Age Trail Association.
"As the Verona area grows, it's critical that we preserve valuable natural areas for current and future generations," said Diaz. "I think that Verona residents are really going to enjoy this area, once it is prepared and open to the public."
The trail began in the 1950s, following the dream of Milwaukeean Ray Zillmer. Today, one of the goals of the Ice Age Trail Alliance is to permanently protect the route of the Ice Age Trail. The new purchase could include trail loops and link two parts of the Ice Age Trail where users currently have to walk along the roadside for 1.8 miles. This parcel will become a new city-county park as it will be combined with another 40 acres of land that were purchased in 2018 by the City of Madison.
"These two properties combined…and hopefully more to the north and west will create this sort of belt around the city of Madison," Thusius said. To finish building the missing 500 miles of the trail, acquisitions like this are "vital."
As Laura Hicklin, Director of the Dane County Land and Water Resources Department, said, "The purpose of the Ice Age Trail is lost if adjoining parcels such as this aren't protected."
[Sources: County of Dane; Ice Age Trail Alliance; Wisconsin State Journal]