Martin Luther King, Jr "I Have a Dream"
Event Supports Local Scholarships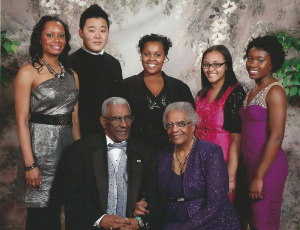 The annual "I Have a Dream" Ball is scheduled for January 15, 2022. This year's event will again take place virtually. As always, the I Have Dream Ball will raise money to fund scholarships for local high school seniors and college students. And, as always, this cherished Madison tradition is organized and sponsored by the dedicated volunteers of Women in Focus.
My name is Josepha Da Costa and I am a junior at La Follette High School. I am also a teen editor at Simpson Street Free Press. I have attended the Women in Focus Ball with my Simpson Street colleagues several times over the years going back to when I was in 6th grade.
This event is something we look forward to every year. While last year's Ball was also virtual, it still felt good to participate and support the cause of local education. People sometimes forget how difficult it is these days to afford higher education. As a high school junior, I'm just now realizing how expensive college can be. It's not just getting to college, qualifying and getting accepted, today it is also about figuring out how to pay for it.
Because this event is staged by local volunteers, all proceeds go directly to college students and college-bound high school students. Each year Women in Focus awards dozens of crucial scholarships to local young people. The I Have a Dream Ball is the primary way these scholarships are funded.
I have always enjoyed the excitement of Madison's I Have a Dream Ball. Deciding what to wear, taking pictures, enjoying a nice dinner, networking and seeing recipients receive their awards makes for a wonderful evening. My absolute favorite part of the night is the dancing! Although I am sad we won't be able to dance in person, I am still looking forward to the January 15th auction and virtual ball.
I attended the virtual event in January of 2021. I was really impressed with how well the zoom event worked out and with all the activities. The 2021 auction items were really cool even though I was unfortunately outbid on a relaxing vacation. This year, I will most certainly come prepared! All things considered, it was still a very fun event. The Women in Focus volunteers planned well and made it a positive experience for everyone involved.
Next year when I am a senior, I hope to be a recipient of a Women in Focus scholarship. In the meantime, I plan to attend this year's Ball with other student journalists from Simpson Street Free Press. We hope you will join us and help support the college dreams of local young people. It's fun and it's a great way to make a real difference.
Again, this year's event will happen on the evening of January 15, 2022. You can find more details on the Women in Focus website. The virtual event and silent auction is free to attend. You can register today at www.WIF.cbo.io
We hope to see you at this year's I Have a Dream Scholarship Ball. We might not be able to dance, at least not in person. But we can keep this important Madison tradition going strong until next year when (we hope) to dance and celebrate in person.