Don't Be Afraid of Every Coyote You See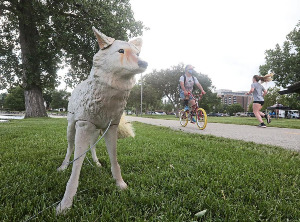 Have you ever seen a coyote in a Madison park? Well you're in luck because it might not be real! These coyotes are made out of plastic and faux fur; they are also a new addition to the Canadian goose management program.
These coyotes can help scare off geese and also help with keeping geese poop out of parks and beaches. The faux coyotes also stop geese from breeding and increasing their populations.
Not only are Madison parks using fake coyotes but they are also using strobe lights and asking volunteers to scar egeese away. Geese are also being put down to lower their populations. Some people do not like this method, in 2011 a group of protesters held a funeral for geese that got shut down that summer.
These methods are working well with the parks' division plans. Addition of more coyote decoys are anticipated in parks in the future.
[Sources: Wisconsin State Journal; Madison.com]