How the Bombing of UW's Sterling Hall
Changed the Anti-war Movement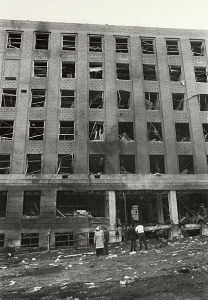 On August 24th 1970, a bomb went off outside Sterling Hall at the University of Wisconsin-Madison. As a result of the attack, a university researcher was killed and others were injured. The cost of the bombing was 6 million dollars and years worth of research.
The people behind the bombing were a group called "The New Year's Gang." The group consisted of four people: David Fine, Leo Burt, Dwight Armstrong, and Karl Armstrong. The bomb attack on Sterling Hall occurred in the context of protests against the Vietnam war.
Members of The New Year's Gang believed that research at UW-Madison's Army Math Research Center was supporting the U.S. war effort and that this research helped kill innocent people in Southeast Asia. Many of the group's ideas stemmed from the Anti-war Movement that took place during the 1960s and 70s.
However, most people within the movement did not take the sort of extreme measures as the New Year's Gang did to spread their message. The gang had made an earlier bombing attempt at the Badger Army Ammunition Plant near Baraboo, Wisconsin. This bomb, however, never went off.
At 3:42 am, the men drove to Sterling Hall with 2,000 pounds of ammonium nitrate soaked in jet fuel. The men thought that there would be no one in the building at that time. However, there was a professor, Robert Fassanacht, working late at night trying to finish a project.
After the bombing, the bombers planned to flee to Canada. Three of the four men were caught and brought to trial. The other member of the New Year's Gang, Leo Burt, was never caught and is still wanted to this day.
This incident affected the Peace and Anti-war movement in significant ways. Some UW students began to be afraid to take part in protests because they feared more violence. Debates about the best tactics for the Anti-war movement occurred during this time. The Sterling Hall bombing changed student activism for years to come.
[Sources: Wisconsin History Highlights; library.wisc.edu; uwalumni.com]