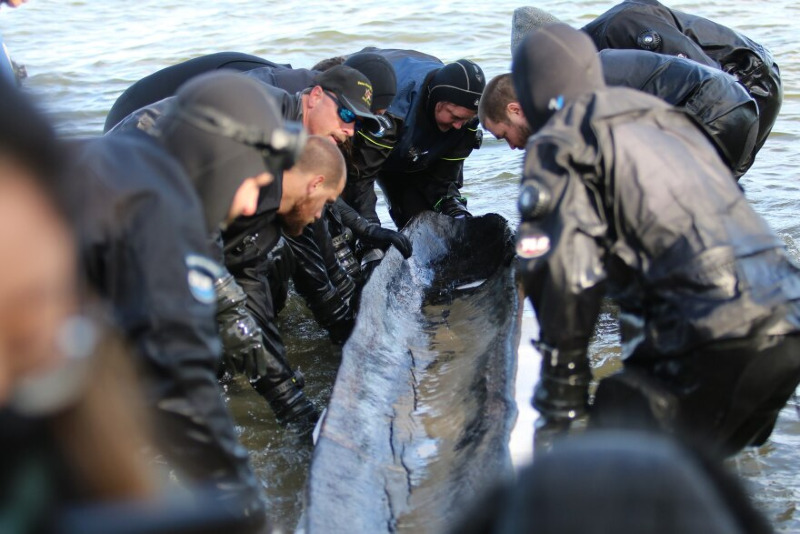 1,200 Year Old Canoe Discovered in Lake Mendota
Last summer, Tamara Thomsen, a maritime archaeologist for the Wisconsin Historical Society, and Mallory Dragt discovered a 15-foot-long dugout canoe in Wisconsin's Lake Mendota. What sets it apart from other sunken boats is its age – the canoe was estimated to be 1,200 years old.
Thomsen and Dragt work together at Divisions Scuba, and they discovered the boat in 27 feet of water near Shorewood Hills while testing some scuba equipment. The canoe was brought to shore by a team of divers near the Spring Harbor Neighborhood. For the next two years, the canoe is set to undergo a series of preservation treatments so it can safely be put on display at the Wisconsin Historical Society's renovated museum on the Capitol Square.
One of the several treatments will take place at the State Archive Preservation Facility, on the East side of Madison. The canoe will be positioned in a 16-foot-long, 3-foot-wide tank. Inside this tank, aside from water meant to keep the environment of the boat stable, there will be a biocide to ensure there are no microorganisms or algae growing on the wood. Then, a treatment of polyethylene glycol will take the place of water that the wood had soaked up.
"This is the first time this thing has been out of the water in 1,200 years and maybe they left from this very beach to go fishing," said Wisconsin State Archaeologist James Skibo. "Not only has it been under water; it's been under the ground. The reason it's so well preserved is that it has not been exposed to the light. So that's one of the reasons we have to start preserving it. There's living organisms on it that are chewing away on it as we speak."
Amy Rosebrough, expert on the builders of the Effigy Mounds in Wisconsin, explained that these treatments intend to solidify the boat and make sure no harm comes to it. The canoe was likely built by the predecessors of the Ho-Chunk Nation, who lived throughout southern Wisconsin. They were known for their dugout canoes and for net sinkers, meant to weigh down fishnets, which were found inside the sunken canoe.
"This is extraordinarily rare, we really don't have anything like this from Wisconsin. We have found pieces of dugouts before in various lakes (but) nothing this intact and nothing intact this old. It's a fragile piece," commented Rosebrough.
The Ho-Chunk people, or the "People of the Big Water," hail from master canoe-builders. A typical technique for making such dugout canoes was to burn the inside of a canoe-in-progress. Then, with the use of stone tools, it was possible to scrape away at the charred wood and to create the ultimate shape of the canoe. The Ho-Chunk's Tribal Historic Preservation Officer, Bill Quackenbush, was able to see the dugout canoe emerge from Lake Mendota.
"When it comes to items of this nature, if it's going to protect and preserve the history and culture of us in this area, we're all in support of that," said Quackenbush referring to the canoe discovery.
While this canoe may be one of the State's oldest recovered sunken boats, Wisconsin is home to many shipwrecks. Numerous wrecks dating back to the 1800s and early 1900s have been found in lakes Superior and Michigan. The Wisconsin Shipwreck Coast National Marine Sanctuary protects 36 shipwrecks between Port Washington and Southern Kewaunee County. Another 59 are still waiting to be discovered in that 962-square-mile area.
With such rich nautical history in Wisconsin, divers, snorkelers, boaters, maritime enthusiasts, and tourists are encouraged to visit the wrecks, such as this dugout canoe, and help discover the ones left to find.
[Sources: Wisconsin State Journal; Madison.com; pbswisconsin.org; Image Credit: Dean Witter / Wisconsin Historical Society]