Ed "Strangler" Lewis: Wisconsin's World Champion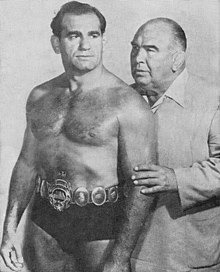 Ed "Strangler" Lewis was one of the most famous athletes in the world in the 1920s and 1930s, along with baseball player Babe Ruth and boxer Jack Dempsy. During that time, he managed to win five world championships and made the sport of wrestling more popular around the world.
Robert Friedrich, later known as Ed Lewis, was born on June 30, 1891, in Sheboygan, Wisconsin. When he was 13, he and his family moved to Wood County, which is where he began wrestling. In high school, his team had a match near Wisconsin Rapids where he would defeat the local champion after a long fought battle in front of 300 people. Robert took on all types of competitors throughout high school and won most of his matches.
He then briefly attended Ripon College, but the opportunity to wrestle professionally inspired him to drop out. On July 4th, 1916, Robert participated in a five and a half hour long wrestling match – one of the longest in history. He fought against Joe Stretcher, a former wrestling champion. Although the match ended in a draw, four years later, in 1920, Robert defeated Stretcher to win the world championship title for the first time.
Robert was massive, weighing around 250 pounds and measuring 56 inches around the chest. Previous wrestler Evan Lewis had the nickname "The Strangler." Robert Friedrich inherited the name "Strangler" because he often used a version of the "sleeper hold," which looks akin to strangling. Robert decided to adopt the name "Ed Lewis" as his professional name to hide his career away from his parents.
In his career, Ed Lewis claims to have wrestled in more than 6,200 matches during the 1920s and 1930s, only losing 33 of them. In 1937, Lewis quit wrestling after being sick of what the sport had become. He said that it had become too focused on entertaining the audience. Lewis also said that fans didn't want to see "real wrestling," but instead wanted to see something like "slamming." Although he thought this, he still had passion for the sport, so he wrestled occasionally and continued to be in the ring. Lewis had his last match in 1947 in Honolulu.
After quitting professional wrestling, Ed opened a restaurant and also gave acting a try. Although he left wrestling behind, he still found it in him to return to the sport in a different way. Once he returned, he trained and managed the world champion Lou Thesz, who became his protege. Lewis was very skilled at the sport at this point in his career, however he began to suffer from a trachoma, an eye disorder that commonly appears in pro wrestlers and boxers. It caused him to lose his sight in the early 1960s and forced him to give up wrestling. He spent a good amount of money on his eyes to try to save his sight. Nevertheless he failed, and in 1962, Lewis became fully blind.
Ed "Strangler" Lewis died in Muskogee, Oklahoma on August 7, 1966. Newspapers all around the country recognized his impact on modern professional wrestling. Ed Lewis was one of the most popular wrestlers of his time and made the sport of wrestling popular globally. Without him, wrestling wouldn't have grown as much as it did in the 20th century.
[Source: Wisconsin Histroy Highlights]