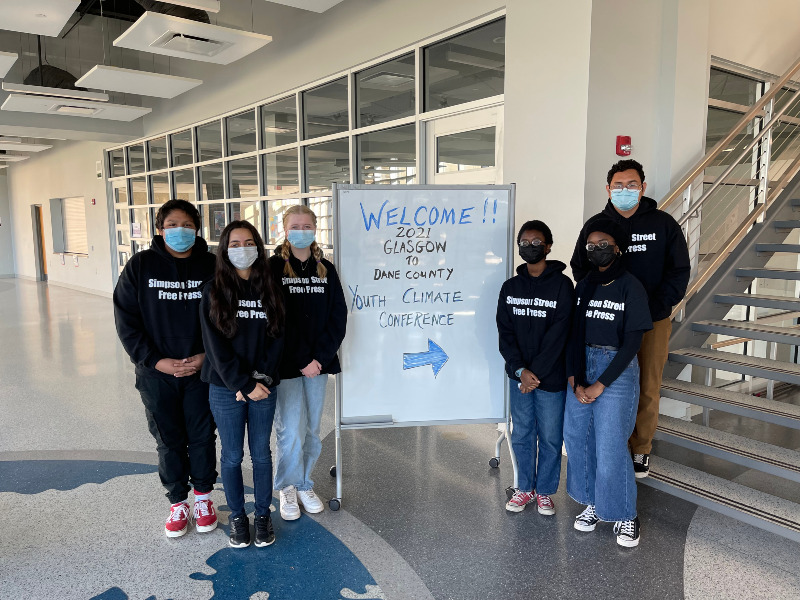 Dane County Students Gather to Discuss Climate Change at Second Annual Conference
For the second year in row, students from around Dane County will gather to address climate change issues. The second annual Dane County high school climate action conference will take place at the Alliant Energy Center on Saturday, November 12.
The title for this year's event is Gen Z: Meeting the challenge of Our Changing Environment. Local student members of the Dane County Youth Environmental Committee are helping plan the conference. A range of speakers and climate experts will make presentations and address topics of particular interest to young people.
"I learned a lot at last year's conference" said Devika Pal, a student at Madison's Memorial High School. "Now, I want to know more. I'm interested in learning what actions we can take to make a difference."
"The conference is the perfect opportunity to connect with environmental activists, other like-minded students, and learn more about environmental issues," said Akanksha Denduluri, a junior at Madison College STEM Academy and member of the Dane County Youth Environmental Committee.
This year's conference will bring together students from 22 different high schools across Dane County. Students can participate in breakout sessions to learn how to communicate on climate change and influence change within their schools and communities. Young participants will also hear about education and career opportunities in the environmental fields, and the intersection of climate and social justice at both the global and local levels.
Xanthe Saalmann is a junior at Madison Country Day School and also a member of the Dane County Youth Environmental Committee. Saalmann says the event is an opportunity for deep learning around topics that affect today's young people.
"This conference gives youth in Dane County a way to speak up on environmental issues we are passionate about. Seeing so many other high schoolers who are also concerned about our future and willing to fight for it gives me hope," Saalmann said.
The United Nations of Dane County and the Dane County Office of Energy & Climate Change are helping organize the conference.
"I look forward to seeing the creative ideas that come from this conference" said Dane County Executive, Joe Parisi. "Young people across Dane County are concerned about climate change, much like many adults in our area. This event empowers high school students to learn about and work together on practical climate solutions,"
On the day of the conference, doors at the Alliant Energy Center will be open for registration at 8:30am. Welcome and introductions are at 9:30. Panel discussions and sessions start at 10am.
All high schoolers in Dane County are invited to attend this year's event. It is free, food will be served, and there is still time sign up. Organizers say no students will be turned away, even if they hear about it at the last minute. So, plan to bring a friend! For more information, check out this website.
[Sources: 10001Ways.com; Dane County Office of Energy & Climate Change; Simpson Street Free Press Archives]