On His Way to the Hall of Fame, Wayne Embry Helped Build a Winner in Milwaukee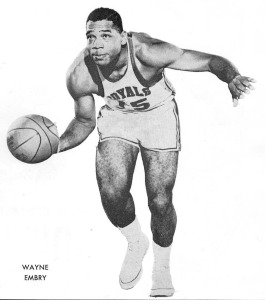 Have you ever heard of Wayne Embry? He became a National Basketball Association (NBA) Hall of Famer who played for various teams in the NBA. Embry was instrumental in making pro basketball successful and popular in Milwaukee.
Wayne Embry started off his basketball career as a player for the Atlanta Hawks in 1958. However, he soon found himself traded to the Cincinnati Royals, the team in his home state of Ohio. Embry, with the help of Hall of Famer Oscar Robertson made the Royals one of the best teams in the league. Embry was mostly known for his rebound and defensive plays but he was also phenomenal on offense too, scoring with his well-known hook shot. He was later named team captain of the Royals.
After a short retirement, in which Embry was talked out of by his friend Bill Russell, he became a player for the Boston Celtics. There, he helped the team win the NBA Championship in 1968. Soon after the Milwaukee Bucks became a team, they drafted him from the Celtics. While Bucks didn't win many games that year, Wayne Embry was still crucial in the building of the Milwaukee Bucks as we know them today.
During his playing career, he was drafted to the NBA All-Star team five times. He eventually ended his playing career for good with the Milwaukee Bucks. However just because his playing career ended that didn't mean his career in basketball had ended. In the 1970s he was working in team management with the Bucks. This gave him the opportunity to be a part of the Bucks' victory of the 1971 NBA Championship. Embry was named Milwaukee Bucks' general manager in 1972. This made him the first African-American general manager (GM) in any major league sport. He worked as a GM for three other NBA teams and as an executive for the NBA. He was named NBA Executive of the Year in 1992 and 1998.
Wayne Embry made a lot of contributions to the basketball industry and continues to influence and inspire the new generation of basketball fans.
[Sources: Wisconsin Historical Society; Milwaukee Journal Sentinel]