UW Field House, a Madison Landmark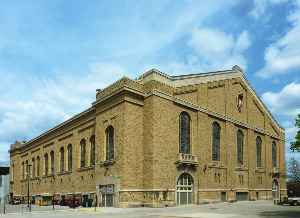 The UW Field House is a landmark building initially built in 1930. It serves as the home to the UW volleyball and wrestling teams. Other UW teams are included as a part of the Field House family, such as the basketball, boxing, and track and field teams.
On April 3, 1970, the Badgers first hosted a National Basketball Association (NBA) playoff series game with the Milwaukee Bucks against the Philadelphia 76ers. The game had a sold-out crowd with the tickets costing under ten dollars. Kareem Abdul-Jabbar had a stellar night at the Field House, scoring 46 points against the 76ers.
In 1986, the Field House became the permanent home of the UW volleyball and UW wrestling teams. The UW basketball team moved to the Kohl Center in 1998, making it the permanent home of the basketball team. The Field House has had many improvements in the past 20 years including brand-new media facilities, visiting teams' locker rooms, and wood flooring.
In 2016, the Badger locker rooms for the Field House were remodeled with team rooms for relaxing, a projector for watching film and studying, leather sofas, study tables, chairs, and a kitchenette. Areas in the Field House such as seating were new and improved in the summer of 2022. The improvements include a chair-back section and a balcony.
In 1996, the Tom Talbot Wrestling Complex located in Camp Randall Stadium, where the Badgers practice, was established. This complex has study rooms, spacious locker rooms, and three thousand square feet of mat space for the wrestlers.
The UW Field House has a long and storied history behind it and many hidden discoveries.
[Source: uwbadgers.com]