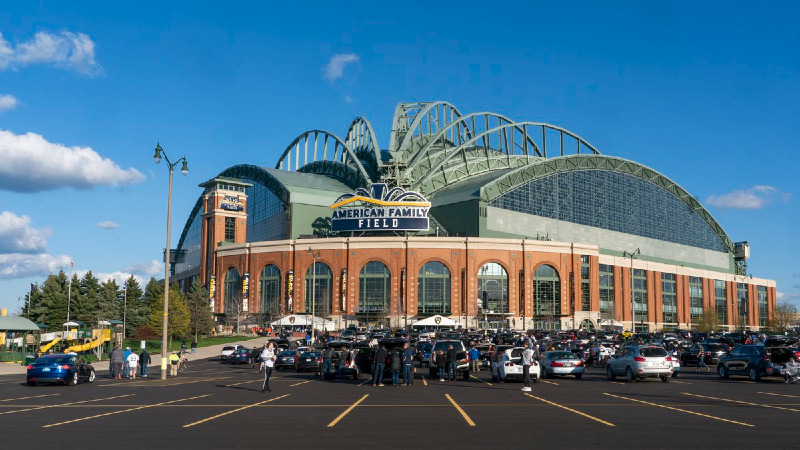 Badger Basketball to Host Games at American Family Field in Milwaukee
For the first time in Wisconsin, college basketball will be played on a baseball field. The University of Wisconsin men's and women's basketball games will be played at American Family Field, (formerly known as Miller Park) home to the Milwaukee Brewers.
Officially announced in June, the Badgers are scheduled to play on November 11. The men's team will be playing Stanford and following that game will be the UW women's team playing Kansas State. The start times for these games are yet to be determined. One ticket will be able to be used for both games. However, these two games will not be part of the season ticket packages because they will not count toward Badger's 2022-2023 basketball season.
The coach of the UW men's team is ecstatic, saying, "this is awesome", and that they have been working on this event for at least 15 years. Rick Schlesinger, president of business operations for the Milwaukee Brewers, said that they are excited to bring the "electric atmosphere of Wisconsin Badgers basketball" to their field for the first time. They hope it will be thrilling for the fans to experience and that it could be something to continue every few years.
Although an exciting event, the set-up of the court will take a lot of hard work. The workers are going to place a basketball court across the infield for the duration of the two games. There will be seats available inside the field along with the seats already installed. The tickets for the courtside seats will also include food and beverages.
UW officials say this will be an amazing opportunity for the players to compete in a whole new and unfamiliar setting.
[Sources: Milwaukee Journal-Sentinel; Madison.com; Associated Press, Image Credit: nbc15.com]