The Steam Deck, a Portable P.C.
Gaming System, Launches in 2022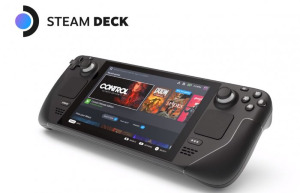 The Steam Deck is a handheld similar to the Nintendo Switch. The screen is nearly identical in size to the Nintendo Switch OLED. You can hook it up to either a TV or a PC. Feel free to play on your Steam Deck however you desire.
You can play PC games on the handheld, which is a unique feature. It uses Bluetooth and has SD cards. Depending on the amount of gigabytes the handheld contains, the cost is significantly higher than the OLED. Unfortunately, the Steam Deck has no detachable controllers, which disappointed many fans. The Steam Deck's battery runs for 2-8 hours and the OLED runs for 9 hours.
For starters, the cheapest Steam Deck that operates on the least amount of gigabytes, 64, costs $400, which would be the first option. The Nintendo Switch OLED costs $350. The second Steam Deck option includes more features for $530; it contains 256 GB. The final option which contains the highest amount of GB, 512, would sell for $650.
The Steam Deck is expected to launch early 2022. Which option do you think is better? Would you choose the first option, the second option, or the third option?
[Source: techrader.com]