Federal Government Plans Increased
Surveillance of U.S. Citizens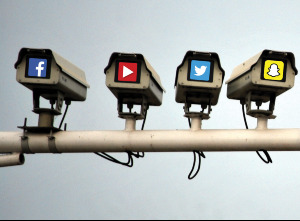 The Department of Homeland Security wants to hire private companies to analyze public social media data.
Biden administration officials say the attack on the U.S. Capitol on January 6th warrants the additional surveillance. But concerns regarding privacy and civil liberties have triggered heated debates about social media. The Department of Homeland Security is considering recruiting private companies as a way to mitigate domestic terrorism threats, according to top DHS official and Biden appointee, John Cohen.
Several sources say Cohen's efforts to push more social media surveillance have caused internal disputes at the DHS and among the President's advisors. Longstanding tensions between security efforts and civil liberties are playing out right now in Washington, according to a report in The Wall Street Journal.
Those against Cohen's plan include Adam Schwartz, an attorney at Electronic Frontier Foundation, a non-profit group that defends privacy and free speech. Schwartz argues that extra policing, more than the government already does, would be a breach of free speech protections.
"We do not support an expansion of social-media surveillance in the name of stopping the next attack on the Capitol," Schwartz said. The government "gobbles up" ample social media data to locate potential threats," he said. 
Other groups have also raised concerns about social media surveillance and free speech, racial and religious profiling, and privacy. In 2018, the ACLU filed a Freedom of Information Act request to find out how agencies like the FBI and Department of Homeland Security collect and analyze content from Facebook, Twitter, and other social media sites.
In an interview last month with reporters, Cohen said outside partners would help "dramatically" expand his department's capabilities in social-media analysis. Multiple news outlets report Cohen is spearheading the project, which is still under discussion and has not yet received funding. The project would involve sifting through public social media posts for narratives providing leads in potential attacks, whether foreign or domestic.
Cohen previously worked for the Department of Homeland Security under Former Presidents George W. Bush and Barack Obama. He and his team continue to advocate for increased social media surveillance.
[Sources: The Wall Street Journal; cnn.com; reclaimthenet.org]