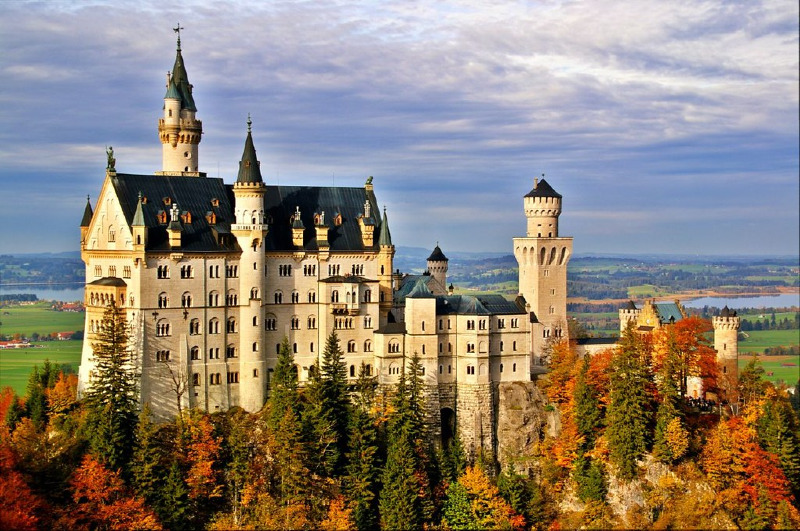 Germany's Fairytale Castle Come to Life
Neuschwanstein is a castle that is located in Germany, which took 17 years to construct. It took 15 men to carve the king's bed and it took them 4 ½ years to finish. Neuschwanstein was a fairytale brought to life.
King Ludwig, who was known as "the Mad King", developed an obsession with German mythology. In 1861, a performance by Richard Wagner's opera Lohengrin left the King enchanted. When he succeeded to the throne three years later at the age of 18, his first act was to summon Wagner. Once Wagner made money, Ludwig would become his patron.
Meanwhile, King Ludwig would create fancy fairy tales with the everyday story of ancient German knights and make money out of them. Wagner recreated the German legend on stage and showed the struggles of God between good and evil. Ludwig was named Mad King because he was seen as a man with no reality.
The Mad King loved to dress up and perform. After each performance, he would sleep all day. He also enjoyed entertaining the ghost of Louis XIV at the dinner table.
Neuschwanstein is composed of different architectural styles. A special feature about the castle was a singer's hall made for Wagner to perform. Additionally, this castle had an advanced heating system and a kitchen with running water.
In 1886, only three months after moving in, King Ludwig was declared unfit to be ruler and later found dead in Lake Starnberg.
[Source: 100 Great Wonders Of The World]