The Greatness of Hank Aaron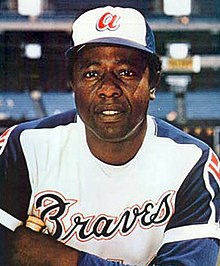 Hank Louis Aaron was one of the greatest African-American Major League Baseball (MLB) players. Hank was known for breaking Babe Ruth's Hall Of Fame and Most Valuable Player (MVP) home run record. He hit 755 career home runs, to Ruth who racked up 714 hits for the Boston Red Sox.
Hank Aaron was a phenomenal MLB player, who went on with his MLB career to have 2,297 runs batted and 3,000 hits. In the 1970 season, Hank became the first player to hit 500 home runs and top it off with 3,000 hits in a single career. He won 3 Golden Glove awards for his outstanding out-fielding. In Hank's 1957 season, he led the Milwaukee Braves to a World Series and took the victory in a thrilling game against the New York Yankees. Hank won the MLB's Most Valuable Player (MVP) award in 1957 and was an outstanding player for the following seasons.
After Hank's Milwaukee Braves' 1965 MLB season, he switched teams to play for the Atlanta Braves located in Atlanta, Georgia. Hank was having an outstanding season as usual, but once he relocated, many people began to hate Hank because he broke so many all-time records in the MLB. Racist people began to threaten Hank with harmful letters. Hank overcame all the hate and pressure and broke a record to end off his season by hitting 755 home runs. In 1975 Hank would return to the Milwaukee Braves. He spent his last two seasons with the Milwaukee Braves. Hank made baseball more popular for people of color.
After Hank's retirement in 1976, he worked as an executive for the MLB. On January 22, 2021, Hank Aaron peacefully passed away in his sleep at the age of 86.
Hank will always be remembered for his greatness on and off the field.
[Sources: Wisconsin Historical Society; Milwaukee Journal Sentinel]