History of Argentina's "Dirty War" Era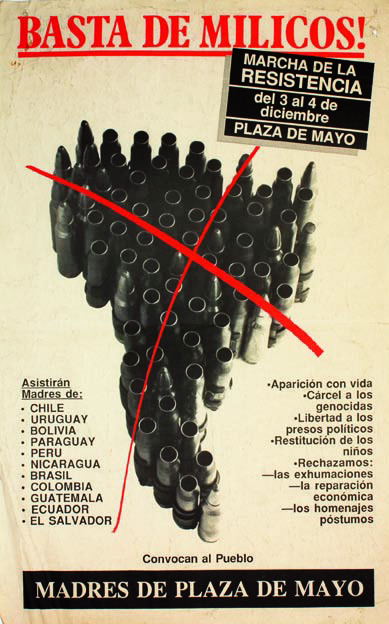 History classes often overlook the history of Latin countries. Sometimes that's true no matter how tragic events were.
Nearly five decades ago, Argentina's military government unleashed a seven-year war against its own people. In what would become known as the Dirty War, thousands of victims mysteriously "disappeared." Most were imprisoned, tortured, and murdered.
In March 1976, the Argentine military junta forcefully removed President Isabel Peron from office and took over the government. Many changes quickly followed Peron's removal. Those who did not agree with the new policies and politics were suspected and targeted as "leftists" and "socialists." The junta (military leaders) established hundreds of secret detention camps throughout Argentina. The camps were so secret that many people thought the camps were just rumors used to intimidate.
Citizens suspected by the government of political opposition often went missing without a trace, never to be seen again. In total, nearly 30,000 people were kidnapped and detained, tortured, and later killed. Since the junta was responsible for the deaths, they disposed of the bodies in despicable ways and tried to act like the victims never existed.
During the era of the Dirty War about 500 children born to women who opposed the junta were kidnapped and either given to other families, abandoned, or even sold. Their mothers were murdered, and the identities of these children remained lost.
In the late 1970's and early 1980's public resistance in Argentina grew. The "Mothers of the Plaza de Mayo" was an organization formed by mothers and grandmothers of victims. They protested every Thursday at the Plaza de Mayo against the brutality of the government and to bring awareness to the situation. Mothers and other protestors, however, were not safe from the brutality. Many of the group's founders were kidnapped and presumed murdered.
The Dirty War finally ended in 1983. The leaders of the military junta renounced power due to political turmoil and uncertainty. They also faced calls for elections from other politicians representing many parties. During the coming years, many members of the junta and others involved in corruption were sentenced to life in prison for human rights abuses.
As for the 500 babies and children who were kidnapped and their identities stolen, geneticists have helped match more than 100 people with their actual families by DNA testing and biological technology.
To many historians this tragedy confirms how important it is to learn from past mistakes to prevent history from repeating itself. The consequences of having an authoritarian government unaccountable to the people are still felt in Argentina today. Even today, grandmothers and mothers continue to seek the truth about their family members' disappearances.
[Sources: History.com; Britannica.com; bbc.com]