Canada's Great Northern Lake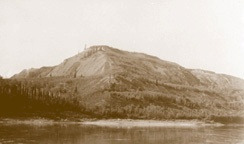 Did you know that the Great Bear Lake is one of the coldest lakes on the planet? Also known as Sahtu, this lake was named by native people living in the area.
Great Bear Lake is both very large and very deep. In fact, it is the fourth largest lake in North America, and the eighth biggest freshwater lake in the entire world! The lake averages 235 feet in depth with a maximum of 1,463 feet. For much of the year, between late November and July, Great Bear Lake is covered in ice.
Great Bear Lake is located near the Arctic Circle in parts of Canada's Northwest Territories. It is one of the most remote lakes on Earth. There is only one village in this area with a permanent population, Deline, with about 200 residents. The native Sahtu Dene people also reside in this area, as they have for thousands of years. They rely on the area's plentiful food sources for hunting and fishing. Some of the animals that inhabit the area include musk oxen, caribous, grizzly bears, eagles, and even falcons. There are also many species of fish living in the lake.
Great Bear Lake is also connected to nearby river systems. Specifically, it flows into the Mackenzie River which continues north to the Arctic Ocean. Another large lake connected to Mackenzie River is the Great Slave Lake which is 200 miles south of Great Bear Lake.
Great Bear Lake is one of many incredible lakes in the world; the lake and its environs are home to many interesting fish and animals. If you ever visit northern Canada be sure to check out this lake.
[Sources: The Canada Encyclopedia; Science.com]