Public Service Commission Approves New Solar Projects in Wisconsin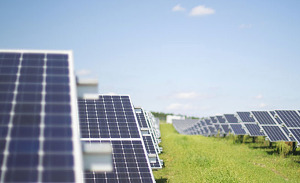 Last year the Wisconsin Public Service Commission (PSC) approved a $925 million investment by Alliant Energy to construct six solar farms across Wisconsin. The projects are currently in development. Recently, the PSC voted to approve Alliant Energy's plan to buy or build six more solar farms, an investment of an additional $620 million.
The investments are part of Alliant's goal to reach net-zero carbon dioxide emissions by 2050. This means eliminating any carbon dioxide that the generation of electricity would produce.
Alliant announced three steps they hope to will help accomplish its goal. The company said that by 2030 it plans to achieve a 50% reduction in CO2 emissions and reduce water use for fossil fuel generation by 75%. And by 2040, the company will eliminate all coal from the generation fleet. Alliant also plans to meet the goal of generating net-zero CO2 emissions for the electricity they generate.
To ensure this vision comes to fruition, Alliant has been venturing into clean energy alternatives like solar, wind, and hydropower, as well as looking at cost-effective renewable resources such as electrification, battery storage, and fiber optic cable.
The new solar projects will generate enough energy to support 100,000 Wisconsin homes annually. The new projects are Albany Solar in Green County; Beaver Dam Solar and Springfield Solar in Dodge County; Cassville Solar in Grant County; Paddock Solar in Rock County and Wauwatosa Solar in Waushara County.
According to Alliant's website, the company has been "working together with the agricultural industry, labor groups and landowners to help people understand the benefits of solar energy. Our partnership with environmental stakeholders will help minimize the impacts on water, land and wildlife."
By the end of 2023, Alliant hopes to have added 1,100 megawatts of solar power to the Wisconsin energy grid.
[Sources: Milwaukee Journal Sentinel; Madison.com]