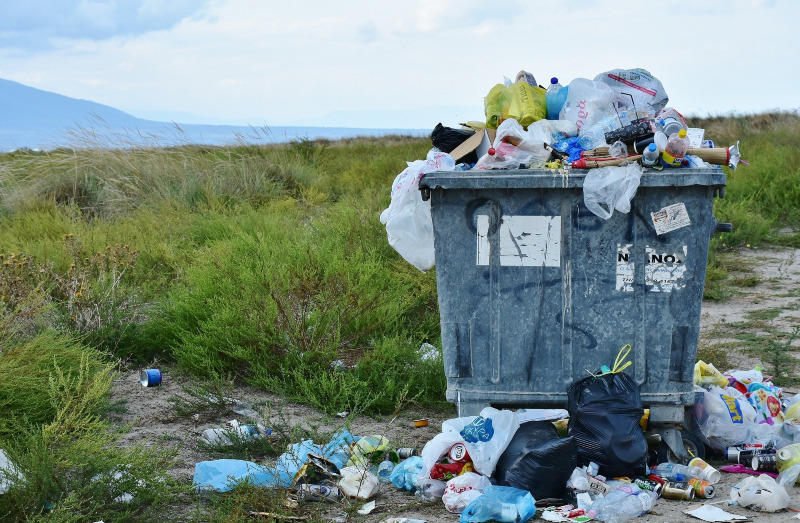 Plastic Pollution Overwhelms America's Recycling Systems
Generations of Americans have grown up on a doctrine of "reduce, reuse, recycle." Everyone, from the oldest Boomers to the youngest of Gen Z know what to do when they see the little triangle made of arrows on the bottom of a plastic product: chuck it in the recycling bin. However, unbeknownst to the masses of routine recyclers, this casual recycling may be causing more problems than it fixes.
Although recycling has been pushed as the solution to the ever-growing piles of trash for decades, according to the Los Angeles Times, less than 10% of single-use plastic ever produced has actually been recycled. Unfortunately, because corporations have been so successful at "greenwashing," there is no massive movement to improve the effectiveness of recycling in the U.S.
According to environmental groups, greenwashing is the process of conveying a false impression or providing misleading information in order to deceive consumers into believing that a company's products are environmentally friendly.
California is one state attempting to work towards a single-use plastic-free future.
California Senate Bill 343, recently signed into law by Gov. Gavin Newsom, aims to address greenwashing and improve the efficacy of recycling. Effective in 2024, the law prohibits the use of the "chasing arrow" sign, which indicates that a product can be recycled, unless the company can prove that the item is being recycled in a meaningful way in California. While the bill itself doesn't limit the production of single-use plastic, it aims to push package producers away from single-use plastic and towards materials with a higher recycling rate, those marked by a No. 1 or No. 2 chasing arrow.
With the increase in single-use packaging from the COVID-19 pandemic, it is more important than ever that other states follow California's lead and pass legislation to limit single-use plastic, many environmentalists say. As of August 2021, 8 million tons of pandemic-related plastic had been produced---70% coming from medical waste---in addition to the annual 300 million tons of single-use plastic produced globally.
Alongside the added plastic medical waste from the pandemic, California is searching for more routes to limit unnecessary plastic packaging. On the November 2022 ballot, Californians will vote on a measure that would impose a penny tax on all plastic-wrapped goods and compel the state to reduce plastic waste by 25% by 2030.
Some say California's push to lower single-use plastic packaging alone isn't enough; the entire nation is complicit in producing plastic waste and polluting the globe. Experts say meaningful change can be made, but corporations need to be held accountable at a national---or global---level and forced to reduce their reliance on unrecyclable plastic packaging.
[Sources: Los Angeles Times; USA Today]