Wisconsin Considers Updated PFAS Rules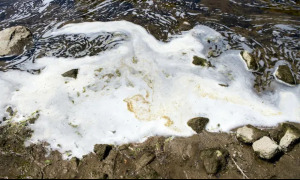 After failure earlier this year, the Wisconsin DNR is once again attempting to tighten restrictions on one of the state's biggest water pollutants.
Early in September, the DNR obtained a scope statement from Governor Tony Evers, allowing them to begin drafting a rule that would add four PFAS contaminants to Wisconsin's current groundwater law. The chemicals in question---PFOS, PFOA, PFBS, and GenX---would be the first additions to the law in over a decade.
Before the rule can be enacted, it must first be approved by the governor, the Natural Resources Board, and the state legislature. A similar rule that proposed a 20 ppt standard for public drinking water, drafted in 2019, failed to make it past the Natural Resources Board in early 2022. The Board instead chose to enforce a 70 ppt in line with the 2016 EPA guidelines.
Since then, the EPA has announced that two PFAS compounds, PFOA and PFOS, are harmful at levels much lower than previously thought---so low that they are undetectable by current technology. Lifetime risks may be incurred at levels of contamination lower than .004 ppt for PFOA and .02 for PFOS. Although the EPA's recommendations are not official regulations, administrators hope that states will use these guidelines when updating their drinking water standards.
"We have learned a lot more since the last health advisory was issued in 2016." Debra Shore, the administrator for EPA's Region, which includes Wisconsin, said.
PFAS contamination is a major ecological issue in Wisconsin, with many cities, including Marinette, Wausau, La Crosse, and Madison, trying to mitigate the effects of unsafe groundwater.
After the EPA released its new guidelines back in June, the Midwest Environmental Advocates petitioned the DNR to revisit the groundwater regulations, worried about the adverse effects PFAS could have in the state considering that 3/4s of the state's water supply comes from groundwater.
Peg Sheaffer, communications director for the Midwest Environmental Advocates, was optimistic about the DNR's new rule proposal. "We expect government officials to prioritize the health and safety of Wisconsin families by setting enforcement standards in line with EPA's updated health advisory, holding PFAS polluters accountable, and helping local water utilities secure the resources they need to provide safe drinking water to their communities."
[Sources: Madison.com, Milwaukee Journal Sentinel; EPA; Image Credits: Jake May/APJ]