New Reports Show Wider Achievement Gaps After Pandemic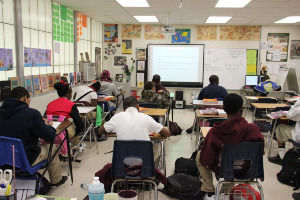 Reports showing achievement gaps widened after students moved from in-person instruction to online learning are no surprise. Virtual instruction caused learning loss in thousands of school districts across the nation.
The switch from in-person instruction to online learning produced negative results in student achievement. Several factors—including the disruption of school schedules, remote learning, social isolation, and health or family-related stress—have contributed to a reduction in math and reading test scores. Researchers report that low test scores are an unsettling prediction for the future.
Research released in January by The Brookings Institution shows the academic achievement gap widening. Brookings used math and reading test scores from the previous two years. They examined data from 5.4 million U.S. students in third through eighth grade. Among those 5.4 million students, math and reading scores were lower than in previous years.
All students were affected, but students of color and low-income students were hit the hardest. For instance, Black and Latino students typically lost six months of math while white students only lost four months, largely because it was more difficult for them and the difficulty in accessing material and support. Wi-Fi was an issue for many, as well as the lack of an authority figure to remind them to attend class. Often these students were left at home by themselves or with older siblings, leaving the responsibility of getting online to these younger students. These students were also less likely to have options for in-person learning. For instance, in January of this year, most Latino and Black fourth graders were learning fully remotely in comparison to only a quarter of white students.
Education experts say it's important to acknowledge that the pandemic did not cause these gaps, but instead exacerbated them, and this itself is alarming. It's a wake-up call for the education system.
[Sources: The New York times; Chalkbeat; The Brookings Institution: Image Credit: Jackie Mader/The Hechinger Report ]