Rising College Debt and the "Parent Plus" School Loan Program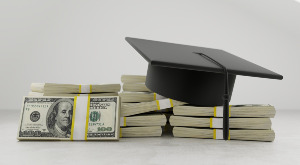 Baylor University, based in central Texas, is one of the many institutions that use a federal loan program called Parent Plus. Among private schools with a minimum of $1 billion endowment, Baylor also had the lowest repayment rate for this particular type of loan.
The Parent Plus program offers federal loans to parents and allows them to help pay for their children's tuition. Before the introduction of this program, undergraduate students were the largest demographic taking out college loans requiring payment. Now, in the Parent Plus era, parents and graduate students take out the most loans.
The fast-growing Parent Plus program does not have income limits or a cap on the number of money parents can borrow, unlike other undergraduate loan programs. This makes Parent Plus appealing and accessible to parents, especially to those who want to send their children to the best-ranking schools. They often hastily agree to take out these loans without realizing the magnitude and future impact of their debt.
At Baylor, the Parent Plus loan program has allowed the university to shift its reputation from being a locally appreciated Baptist college to a nationally accredited and endorsed institution. The university has funneled its resources into building a new sports complex and expanding its existing research facilities to match those of the top schools in the nation.
"It's a strong school, but not an Ivy League," stated Annabeth Mohon, a 2014 Baylor graduate and former admissions counselor. "I don't know if the prestige matches the price tag as the school tries to sell it."
Along with this shift in reputation came a shift in tuition. Parent Plus has been known to allow such rises in cost at private universities attempting to reach their aspired levels of esteem. However, these smaller private schools often do not offer the same level of financial aid as the well-known, larger universities.
Low repayment rates at Baylor University result from an imbalance between the cost of attendance and financial aid. Many families, primarily low-income families, are encouraged to borrow large sums of money to pay for Baylor. In fact, the proportion of low-income families using Parent Plus loans at Baylor was higher than at most other institutions.
About 47 percent of the Baylor families borrowing money through the Parent Plus program received other federal grants for their children, and many of these are specifically designated for low-income students. In contrast, this is true of only 28 percent of families at other similar schools. A total of $103.6 billion is owed by families in Parent Plus loans nationwide.
Data was recently released on rates of repayment at each school. Reports show repayments scheduled to begin in 2016-17, including at 55 of 61 nonprofit institutions with at least $1 billion in endowments. At wealthy schools, 50 percent of parents began repaying their Parent Plus loans after two years. Among private four-year colleges, only 39 percent of parents had started their payments. According to the data, the schools with the lowest rates of loan repayment were also schools with the least financial aid available for their students.
"There's so much more that institutions can and should be doing…to ensure that all students can afford to pay the cost," said Laura Perna, vice provost and professor at the University of Pennsylvania focusing on college affordability.
Schools use money gathered from student tuition to pay expenses. Institutions, like Baylor, tend to receive the cost of tuition for each student upfront, regardless of their payment method. Therefore, Baylor collects the same amount of money from families paying out-of-pocket as from those resorting to loans like Parent Plus. While some schools prioritize creating a greater amount of financial aid for their low-income students, other universities focus their budgets on augmenting and transforming their facilities.
For many families, the improved campus and reputation of Baylor do not seem to be worth the cost. One such family is that of Trina Saverin, a 53-year-old mother, and public school administrator. Aside from her own student loans left over from her master's degree, she has accumulated $139,000 of debt in Parent Plus loans for her two children. She expressed that she feels she "will never get it all paid off."
Baylor University has moved away from admitting students with no feasible means of paying tuition and the institution says it has made a point of taking families' financial capabilities into consideration when accepting students.
Critics, however, say federal loan programs are part of a broken system. They point to families who turned to Parent Plus to pay for college but are now in debt. At Baylor University, and other similar schools, some families will be burdened with loan debt for years to come.
[Sources: The Wall Street Journal; Chicago Tribune; Gannett Newspapers]