Editorial: My Madison ACT Experience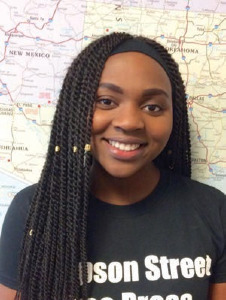 As a junior at La Follette High School, the majority of my school year was focused on preparing for the ACT college entrance exam. The ACT test plays a big role in determining college acceptance, in addition to GPA and other factors. As a student, it sometimes feels like it determines your entire future. Achieving a high score on the ACT greatly improves a student's chance of being accepted to tougher universities or colleges. High scores can also mean scholarships and more financial aid. For me, scoring well on the ACT would allow me to branch out, leave Madison, thrive in my potential field, and to reach my ultimate goal of becoming a lawyer representing underserved people from diverse communities.
My spring semester focused largely on my three core classes—English, history, and science—and heavily on preparing for the ACT. I was also enrolled in a program called AVID (Advanced, Via, Individual, and Determination), a pre-college academic readiness program that allows students to visit colleges within Wisconsin. The AVID program also helps students develop organizational skills such as how to take Cornell notes. In college you must take notes in a clear, concise way. Eduardo Castillo is a senior at La Follete High School. He agrees that AVID has a lot to offer as a course. "It has given me a sense of direction when thinking and speaking about college readiness. AVID makes sure we as a class feel comfortable to use our resources."
I took copious notes in my ACT prep courses. In each AVID class, we talked about passage mapping strategies, numbering paragraphs, reading questions fully before answering, and taking practice tests on career cruising. At the end of class, we went over our notes and read pre-ACT passages. I felt like my peers were taking each session seriously and giving their best effort.
Attempting to take full advantage of what was available to me, I also participated in an additional preparatory program offered at my high school called ACT Prep. It was a completely different experience from AVID, and a complete disappointment. During practice tests, students were on their phones and generally not focused. They rushed through the tests because they knew as soon as they were done the instructor would play a movie. The instructor taped a list of rules to the wall, but there was no enforcement. The majority of students in the class were students of color. Watching people who look like me not take the course seriously was an awful experience. Despite the effort I put into both preparatory courses, I knew that I would not reach my goal of scoring a 26.
Finally, test day came. Once the test was actually in front of me, I felt like I was having a panic attack. Without the proper practice and time management preparation, I found myself thinking, "How am I gonna do this?" and "Is it okay to pause for a sip of water."
A few weeks later, I received my ACT score. Just as I feared, even though I had used every resource my school provided and worked so hard, I still came up short. I was so disappointed with myself.
Shortly after that, my sister, Clementine, somehow found out about my score. Knowing I was capable of better, she immediately informed me of a program she knew would help. The program is called Kaplan, a for-profit corporation that helps students prepare for examinations like the ACT. I felt like I was getting a second chance at doing well at something that could positively impact my future in a big way.
The structure of my Kaplan course was totally different than the high school ACT Prep courses. Before I went to my first session, I received a huge practice test booklet and a step-by-step guide to Kaplan strategies and methods. Similar to AVID, we learned about passage mapping. But, this time the instruction was much more comprehensive. In AVID, we simply learned to number the paragraphs. Alternatively, in Kaplan, we were instructed to fully read the prompts before answering. Then, after answering, we learned to write concise summaries of each paragraph. This practice taught me how to identify the main idea of each passage. I noticed growth in my English and reading composite scores; in English, my score jumped by five points and my reading score jumped by eight.
On July 14th at 8:00 a.m. I had the chance to put the methods Kaplan taught me to good use. This time, my nerves did not overcome me. Drawing on what I learned, I simply went step-by-step following the mapping strategies and I knew how to properly manage my time throughout the exam. Without a program like Kaplan, taking the test again would likely have been a waste.
Through my experience with ACT preparation programs, I have become aware of another issue of inequity facing current Madison high schoolers. Many students from low income families are never made aware of private ACT prep programs. But, even for lower income students who are aware of such programs, financial barriers prevent participation. These combined factors put low-income students at an unfair disadvantage compared to their higher-income peers. Wouldn't it be wonderful if all students could have access to ACT prep programs such as Kaplan or Princeton regardless of the income level?
Of course, that's easy to say. It's a whole lot harder to do. So, what is a practical solution? Out-of-school time programs (OST) like Kaplan ACT prep classes are very expensive. Many families can't afford them and access to really high-quality, high-impact OST is limited in Madison. Growing up on the south side I can tell you I saw very few academic-based OST programs. The Madison Community Foundation addresses this issue in a recent blog post by Tom Linfield. Mr. Linfield correctly points out that money often determines who gets access to high-quality OST. He also points out that academic-focused OST can really help boost college readiness.
Kaplan ACT prep is essentially an out-of-school time program, and it's a good one. But it is also out of reach for many lower-income students. If we really want to bridge achievement gaps and address disparities in Dane County, we should understand how powerful OST programs can be. And we should make high-quality OST available for all local kids.