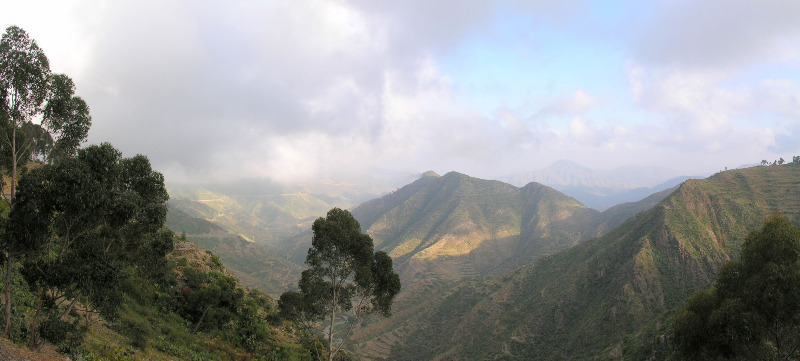 A Land and a Culture: Why I Love Eritrea
If it is true, that home is where the heart is, then Eritrea is my rightful home. Eritrea is located on the Horn of Africa, along the Red Sea, and it neighbors Ethiopia, Djibouti, and Sudan. Eritrea became a sovereign country only in 1993, after a 30-year war for independence.
When referring to incredible places, many people tend to speak of big bustling cities or spectacular landscapes. I think of the interconnected community, the unseen martyrs who fought for our independence and the beautiful traditions and sacred entities that inhabit the country. Both my parents, Asmeret and Eyobed, are from Asmara, the capital and largest city in Eritrea. So, my family's link to our home country is strong.
When it comes to national customs, Eritrean people are known for their gratitude and care of tradition. Even with simple things, such as eating, unity is a prominent character trait. When eating, Eritreans share a big plate and incorporate different dishes into a meal that is widely known as Injera. Conversations like marriage, religion, social issues, family, and everyday lives are shared.
Back in 2016, on a trip with my family, I vividly remember the colorful cuisine of tsebhi, shiro, lentil (timtimo), among others. There was so much beauty in coming together to bless the food and be grateful for the people who shared it with us. We discussed the life that we were blessed to live. Eating in Eritrea is more than just a break from work or a forgetful moment; it is a joyful experience where you feel connected to those around you and are given time to acknowledge that.
When Americans think of coffee they think of Starbucks or an energy boost for stressful days. That is not the case in Eritrea. There, drinking coffee is more extravagant: it is a sacred ceremony where the coffee is made from scratch. In these ceremonies, guests will come over, Hambesha (bread), the Eritrean delicacy, will be served along with other snacks and possibly cake. Women are usually hosting these ceremonies as they are taught from a young age how to heat and crush the coffee beans properly. Once the beans are roasted and are smoking, the hostess will bring the pan to the guests and let them inhale it as a sign of respect and gratitude for the person who invited you. When everyone is settled down and the coffee is ready, the hostess will pour the coffee from the jebena (a coffee pot) into small cups that will be passed among the guests. As this is happening, conversations about love, loss, political events, and social interactions will fill the room. There will be laughter, sadness, prayer, and many other emotions. The coffee ceremony is a renowned occasion and is an important part of Eritrean culture.
Eritrea is also known for its music and interactive dancing. When speaking of the musical arts from in Eritrea, it is important to understand the heart that goes into both the composition of the music as well as the celebrations in which it is included. Because there are nine ethnic groups that reside in Eritrea, music and dance are diverse and versatile as they vary in different parts of the country.
One of the main ethnic groups, Tigrinya, are known for their dance where they bring their shoulders up and down to the beat as they move around in a circle. Dancing is a huge part of weddings, birthdays, gatherings and other celebrations. Because of how passionate people get by the end of these occasions, they are sweating and ready to rest. At times the dancing can go all night, but the passion and the spirit of the Eritrean people lives on. Some of the most popular Eritrean musicians are Berkhet Mengisteab, Tsehaytu Berakhi, and Abraham Afwerki. Some well-known American musicians from Eritrea are Nipsey Hussle, Amine, and Berhana.
In my personal experience, Eritrea is one of the most authentic and charming places I have ever been. Although I may be biased, this is a common opinion. From the sense of community to the love that goes into cooking, Eritrea can be looked upon as a haven of sorts: the differing vegetation and land, from the mountains to the Red Sea, and the nine ethnic groups. The colorful versatility of Eritrea is undeniable and anyone experiencing it, will have a full life.