Addressing the Long-Term Effects of a Sustained Reading Crisis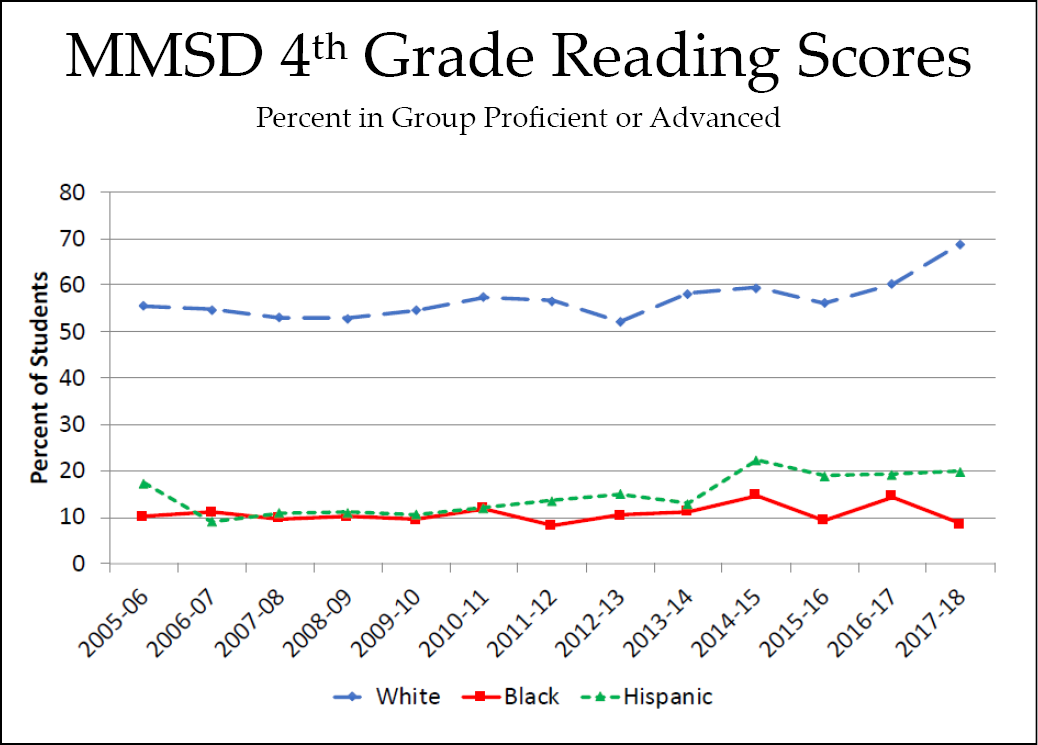 Low reading scores cause concern and debate around our country. Central to this national discussion are questions about how reading is taught in our schools. In fact, growing numbers of literacy experts say the way reading instruction is implemented in some American schools is outdated and ineffective.
The data is pretty clear.
America's low reading scores are alarming on many levels. Kids who don't read at grade level are much more likely to be disengaged at school, drop out, suffer long-lasting low self-esteem, or become incarcerated. And as new Madison Schools superintendent, Dr. Carlton Jenkins, recently pointed out in an interview with Simpson Street Free Press, reading scores in Madison, Wisconsin are lower than those in Mississippi and Alabama.
What's more, even if a high school graduate, a poor reader who gets into college is very likely to drop out of college with insurmountable debt. A poor reader is much more likely to have trouble finding a job or establishing a successful career.
To successfully address the current reading crisis, most experts now agree we must at least adjust our current approach to teaching reading. And more than a few literacy experts say we should abandon altogether the ways that many schools teach reading.
One important building block to any child's success begins with learning how to read. Current literacy instruction methods can, however, actually undermine that fundamental building block. Research shows it's often Black, Brown, and low-income students who pay the price when efforts to properly teach reading in schools prove fruitless.
McKenna Kohlenberg is a longtime editor and literacy specialist at Simpson Street Free Press. Her research, recently published in the New York University Review of Law and Social Change, examines the so-called school-to-prison pipeline.
Kohlenberg points out that students must learn to read so they can read to learn. From birth to about 4th grade children are learning to read. From and after 4th grade, students must read in order to learn. It is extremely difficult for a poor reader to comprehend 5th grade or middle school curriculum, and it becomes harder to catch up with each passing grade level.
Modern research does provide knowledge and solutions. There are decades of research on the science of reading and how to restore and then build on that fundamental literacy building block.
According to 2017-18 MAP assessments for Madison's public schools, only about 18 percent of African American third graders scored proficient or advanced in reading. In contrast, about 67 percent of white third graders scored proficient or advanced.
Test scores from across our state aren't much better. Average fourth grade reading scores in Wisconsin have dropped from 3rd in the country to 34th during the past two decades. And it's sobering to discover that Wisconsin's approach to teaching reading has not changed or evolved during that time. Meanwhile, more enlightened states have adopted a science-based approach to reading instruction.
When other states examined their use of a "three-cueing" system, a method that teaches students to guess and skip words—they changed direction and changed tactics. They got better results. In fact, even states like Mississippi have passed Wisconsin in reading scores, a fact many experts attribute to changes in reading curriculum.
The national reading debate about literacy instruction has called into question and sparked useful discussion about various other methods used for teaching reading. For example, many elementary schools still use a form of instruction that goes by the name "leveled reading." Many reading experts want to see this instructional method eliminated.
In the leveled reading approach, a teacher assigns a book to a student based on assessed reading abilities. These books range from level 'A' (Kindergarten level), to level 'Z' (5th grade level). But some experts say this method does little to help kids learn to read.
From a 4th-grader's perspective, you are pulled to the side during reading instruction, and you are asked to read a passage. For every mispronunciation or error, your teacher marks that mistake. This hypothetical 4th grader will run into words such as "significant" and "extinguish." Because of prior reading instruction, or lack thereof, the student is stuck at the meaning and pronunciation of both words. The student and parents are told she is not reading at grade level. This hypothetical student is given a 'G' book, when her classmates are mostly at level 'T.' This student might decide that reading just isn't for her.
But it is not the student's fault. There's no evidence that leveled reading boosts comprehension. Not only that, the assessment method often used is a technique called 'Running Records,' which is also a discredited form of teaching reading.
In cases like these, decision makers, policy makers, and instructors are no doubt well-intentioned. Literacy experts say, and data backs it up, they are also misguided. Fortunately, we see more and more school districts redirecting their curriculum in ways that benefit disadvantaged students.
Madison, however, has not seen improvement in reading scores. Granted, socio-economic stratification and racism both play their roles in Madison. And dumbing down curriculum only exacerbates disparities between and among students when discussing academic achievement. There is considerable evidence that methods such as "whole language" or "balanced literacy" or "leveled reading" don't help students succeed in real classrooms. These tactics often have the short-term effects of boosting graduation rates, but students rarely harvest true educational gains.
As a Madison high school student, I see it every day. It causes me pause to see the numbing number of local children who right now need the benefit of new and better approaches to literacy.
Higher-income families more often have the means to access external resources to aid in their child's education. A majority of these families are white. In Madison's current system, lower-income students are too often left to struggle through on their own further creating an uneven playing field for those students. This gap in opportunity and access is particularly evident during COVID-19.
Simpson Street Free Press has watched for years efforts to bridge achievement gaps in Madison. We have written about these topics many times. Under the leadership of its new superintendent, the Madison School District seems poised to make positive changes and embrace the science of reading.
There is clear evidence Madison needs to address its reading crisis. If we don't, the gaps and disparities that define our city will continue. Important and long-overdue steps are underway in Madison.
[Sources: Forbes; Channel3000.com; Isthmus; New York University Review of Law and Social Change; eduvaites.com; Simpson Street Free Press archives; Spelfabet; Madison.com]