Gwendolyn Brooks Made History with Her Words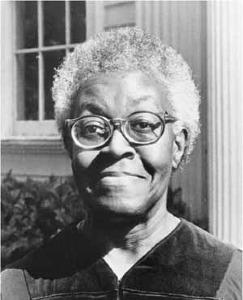 Amanda Gorman is a well-known poet, scholar and activist in America today. But before there was a young, powerful, Amanda Gorman, there was Gwendolyn Brooks.
Gwendolyn Brooks used her passion and command of language to advocate for change during the Civil Rights movement. She experienced many changes of American history in her lifetime, Gwendolyn Brooks found her voice, and her voice as a Black women, through writing.
Today, Brooks is remembered as one of the most respected writers of the 20th century. She was a Poet Laureate and a Pulitzer Prize winner.
Gwendolyn Brooks was born in Topeka, Kansas and raised in Chicago. She was raised in that city at a time when even Martin Luther King found Chicago's racism to be daunting in comparison to the segregated south.
Growing up, Brooks loved to write and read. She liked to read Harvard classics and the famous Black poet, Paul Lawrence Dunbar. She was a very intelligent young lady. She had her first poem published when she was only 14. Her education was very sound and after high school she went on to graduate from Wilson Junior College in 1936, which was during the Great Depression. As a young black woman in the 1930's at a time of revolutionary economic crisis, this was an astounding accomplishment. 
Brooks excelled academically but was barred from opportunities. Although she was a very smart and qualified young woman, that didn't mean that she still wouldn't face adversity when looking for a job. When she first got out of college there was only domestic work and a secretary job at her church. Later on, she became Publicity Director of the Youth Organization of the NAACP in Chicago. And she never stopped writing.
Brooks continued to write as she was working. Eventually in 1950, a year after Harper & Brothers published Brooks' second book of poems, "Annie Allen"; she became the first Black woman to win the prestigious Pulitzer Prize, a miraculous achievement, The book was about an African-American girl growing into adulthood in the 1940's. After that Brooks continued to expand her writing. During the 1960's Brooks became involved in the Civil Rights Movement. arose and evolved. Already an established writer, she began to become politically conscious and became an activist through her writing.  
Throughout her career, Brooks was an extremely decorated writer. Her work earned her many awards and made her a legend in her field. She was appointed the Poet Laureate of Illinois and she served in that role up until her passing in 2002. She was inducted into the American Academy of Arts and Letters and won many other awards. Brooks made her mark in the writing and poetry world. 
Gwendolyn Brooks made history with her words and influenced writers all over the world. Her legacy is impactful to so many around the world. As a double minority in the harsh years of the Civil Rights and Women's Rights movements, Brooks excelled among all races, all genders, and all disparities. She paved the way and became a successful pioneer for many around the world.
[Sources: Chicago Literary Archive; NPR.org; National Women's Hall of Fame]