Book Review: The Hate U Give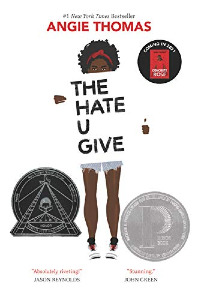 As Winter break draws to a close and marks the beginning of another stressful semester; a good book may just be the remedy to ease back into the remaining portion of the school year. If this is the case, I have the perfect book suggestion, The Hate U Give, by Angie Thomas. This book was published in 2017, and following its release, a movie was soon developed.
As we leave a year of racial awakenings, this book provides an in-depth perspective into the life of a teenage girl named Starr, who has witnessed a tragedy. During recent years we've all seen tragedies broadcasted by various media outlets. This book offers a personal and intimate experience as the main character deals with tragedy. Starr learns to speak up and speak out. Through her character development, we, the readers, see Starr mature and evolve. We see her at her highest and lowest points, battling her emotions and managing her pain.
I first read this book as a 7th grader, and at the time I was just beginning to understand the extent of racial injustice in America. I was beginning to learn about systemic racism and other systems such as redlining or mass incarceration, which are factors in grander-systematic oppression.
Looking back on it now, in my first read I only half comprehended the contents of the book. At the time, I didn't truly understand the significance of the book and why it is relevant to our world today. But after reading the book a few years later as a sophomore, I began to relate more to the main character. Although I have never personally experienced that kind of pain firsthand, I felt empathy for Starr. Thomas wrote the book in a way that helps readers relate to the characters. Feel it all; the lack of focus, the anxiety, the pain, and the anger.
And as time goes on, I continue to connect the dots between real-world situations, and those that occur in the book. I am now well into my Junior year, and I still think about this book often. And more and more, I understand what the author is describing, and what she is trying to convey.
Trauma from tragedies lived takes a toll on the body, physically, mentally, and even spiritually. You can see it in the way Starr walks through life; a grueling burden. The character Starr demonstrates that you don't need to carry that burden alone, but with the help of family and friends, you can get through it. In light of this healing, she also found the power to forgive, to forgive herself for the pain, anger, hurt, and guilt. And in allowing herself to forgive, she is able to be there for herself and her community. But most of all forgiving gave her the power to heal, allowing her to show up for those who mattered.
This is an interesting and action-packed book. It has many lessons buried within its pages. The book allows the reader to enter a fictional world. But it's a world that mirrors our own reality in many ways. The book draws real-world connections and helps consider changes that can make our society better! I recommend The Hate U Give by Angie Thomas, for middle and high school readers.